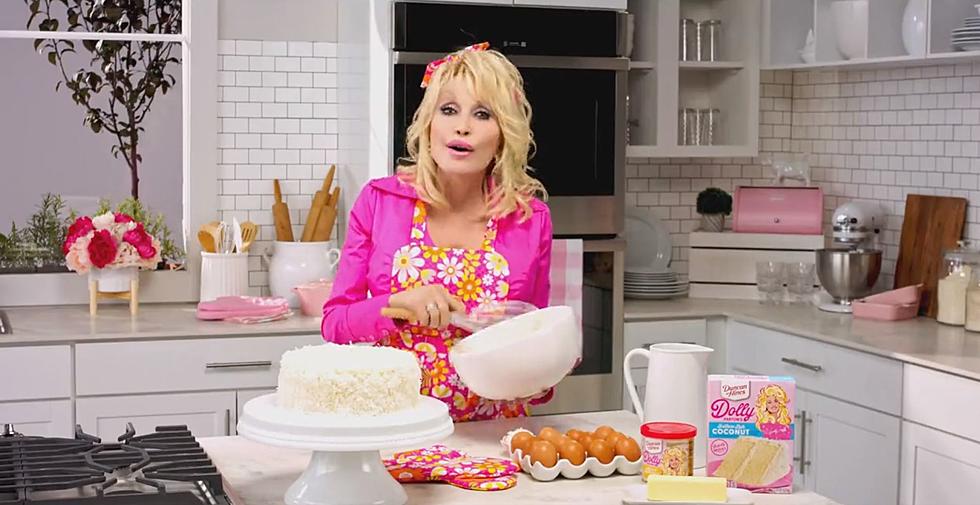 Dolly Parton's Cake Mixes Sold Out Fast But Duncan Hines Will Restock Soon
Dolly Parton Twitter video
$40 plus shipping for a cake mix?  Hey - it is Dolly Parton after all. Last week, Duncan Hines announced a partnership with the country music singer to release a limited edition series of cake mixes and prepared frostings - specifically tailored to southern-style baking; they also suggested that the products were "inspired by Dolly's famous southern recipes".
It seemed like a perfect match:  sweet confections and one of America's most-loved celebrities of all time. The marketers at Duncan Hines surely knew they were on to something.
And, apparently they were right. Just as quickly as the limited-edition products went up for sale, they were sold out.  Even at the high price tag.
It's worth pointing out that the $40 price tag was for a kit that included one of each of the cake mixes and frostings.
But if you were looking to buy Dolly's sweets, rejoice:  Duncan Hines has promised that they will be back. On their website you can sign up to be notified "when more become available". Dolly's tweet on Twitter suggests that that could happen in "March".
In defense of both Dolly and Duncan Hines, they're both pretty popular brands on their own; together, it was a perfect marketing matchup.  And, both entities did their part in promoting the cake mixes and frosting on social media platforms:
Dolly Parton's Southern Style Coconut Flavored Cake Mix
Dolly Parton's Southern Style Banana Flavored Cake Mix
Dolly Parton's Creamy Buttercream Frosting
Dolly Parton's Chocolate Buttercream Frosting
No word on whether or not Duncan Hines will release different varieties of Dolly-inspired products when they become available again.
Top Items Needed For A Well-Equipped Kitchen
10 Delicious Snacks With Minnesota Roots
LOOK: 15 Discontinued McDonald's Menu Items