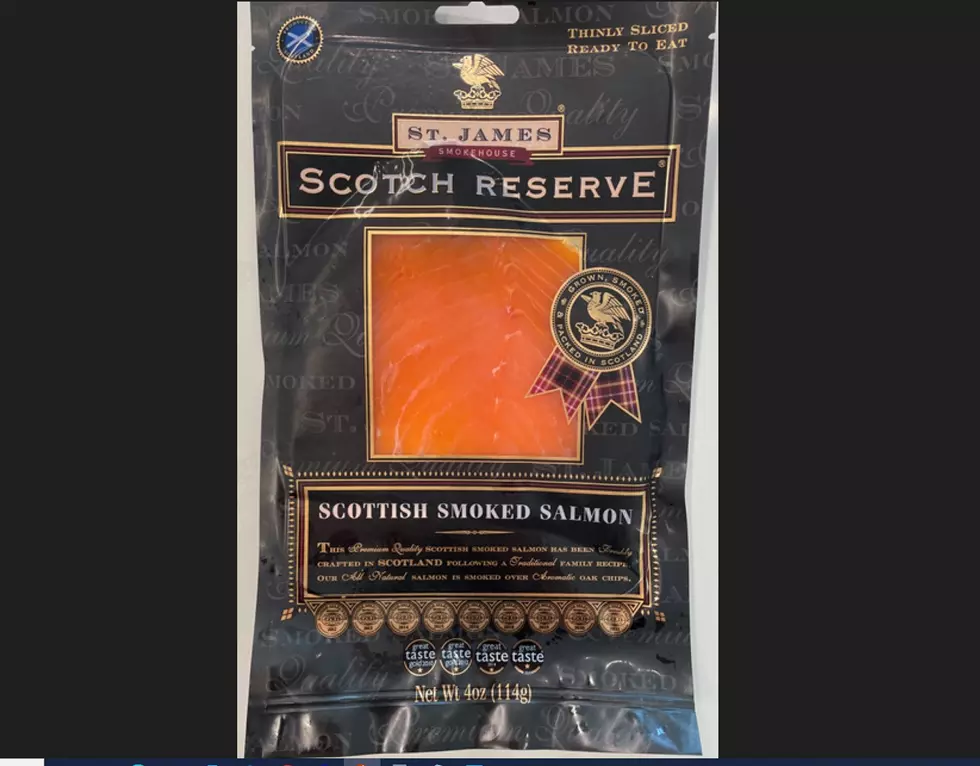 Smoked Salmon Recall Includes Wisconsin Retailers
US FDA
Better check that smoked salmon.  A voluntary recall has been issued for a popular brand of the fresh fish product sold at stores throughout the United States - including Wisconsin.
The United States Food and Drug Administration is sharing that St. James Smokehouse brand, Scotch Reserve Scottish Smoked Salmon is being recalled due to Listeria contamination concerns.  The 4-ounce packages are sold in the United States, but are a product of Scotland.
According to the U.S. FDA, the affected product has been on shelves for the last few months:
"The recalled product was sold and distributed by St. James via distributors between February and June 2022.  The recalled product was distributed to stores located in Alabama, Colorado, Florida, Illinois, New Jersey, New York, Massachusetts, Washing State, Virginia, and Wisconsin as well as Safeway Washington State stores."
While the date range covers a lot of time, the actual recalled smoked salmon product is for one specific lot code.  Here are the details:
Product name:  St. James Scotch Reserve Scottish Smoked Salmon (Product of Scotland)
Size:  4-ounce packages
Lot Code:  123172
UPC Code:  060022710356
No other products or lot codes are involved in the recall effort at this time.
Listeria contamination can be a serious matter.  The organism can cause serious and sometimes fatal infections in children, frail or elderly people, and others with weakened immune systems. Common symptoms include high fever, severe headache, stiffness, nauseam abdominal pain, and diarrhea.  The infection can cause miscarriages and stillbirths among pregnant women.
At this time there have been no known medical issues involved with the recalled product.
Consumers who have the specific lot code of smoked salmon being recalled should not consume it.  They're being directed to throw it away or bring it back to the store from which it was purchased for a refund.
Foods You Need To Eat Before Summer Is Over
8 Foods You Should Know Living In The Northland
KEEP READING: Here are 6 foods from your cookout that could harm your dog