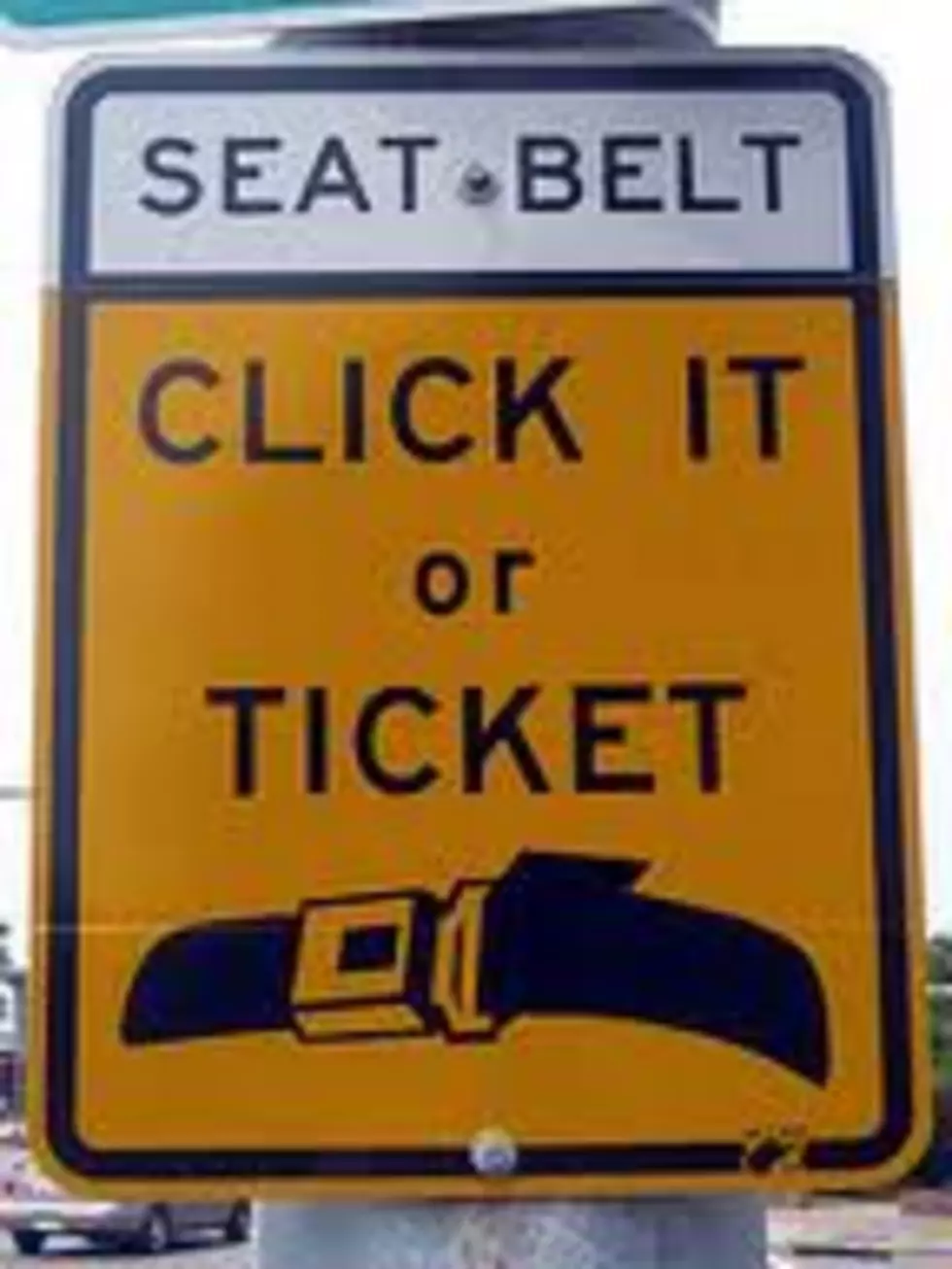 Avoid A Ticket: Increased Click It Or Ticket Patrols In The Northland
Ken and I were just talking about this during the Breakfast Club Morning Show.  The fact that when I was young (dating myself, but in the late 60's, early 70's), wearing your seat belt wasn't a law.  In fact, it was a rare occurrence to see someone wearing their seat belt.  Don't get me wrong, they were there to be used, just, no one did.
DO NOT TRY THIS NOW, IT'S AGAINST THE LAW-but, my mom and dad use to let me STAND between them, on the front bench seat of the car when I was a toddler.  STAND!  Sometime, I thank my lucky stars to still be around.
Our local law enforcement will be out and about with increased Click It or Ticket Patrols, here's what you need to know.  You've been warned.
The Duluth Police Department, St. Louis County Sheriff's Office, Hermantown Police Department, Proctor Police Department, UMD Police Department, Floodwood Police Department and Minnesota State Patrol are conducting increased Click It or Ticket seat belt patrols during one of the state's largest belt enforcement campaigns of the year, October 14–27. The campaign aims to increase belt use to stop preventable deaths and injuries.

Statewide during the last three years, 409 unbelted motorists were killed and 814 suffered serious, life-altering injuries.

Seat belts must be worn correctly — low and snug across the hips; shoulder straps should never be tucked under an arm or behind the back.

Motorists are the first line of enforcing the law by speaking up and insisting that all passengers are belted. It may not be cool or easy to nag everyone to buckle up, but it's a lot easier than dealing with the consequences.

The enforcement effort will also include a nighttime seat belt enforcement focus. Each year, more than 60 percent of the nighttime fatalities (9 p.m.–3 a.m.) are not buckled up.

A seat belt is a motorist's best defense in case of a crash. In rollover crashes, unbelted motorists are usually ejected from the vehicle. In most cases, the vehicle will roll over them. Often, unbelted motorists will crack teeth out on steering wheels or break their nose, and even slam into and injure or kill others in the vehicle.

The primary law requires passengers in all seating positions, including the back seat, to be buckled up or seated in the correct child restraint. Officers will stop and ticket unbelted drivers or passengers. The campaign will also include enforcement of Minnesota's strengthened child passenger safety law which requires children to use a booster seat starting after they have outgrown a forward-facing harnessed restraint (typically 40–60 pounds, depending on seat's weight limitations). Children should remain in a booster until they are age 8 or 4 feet9 inches tall — whichever comes first. It is recommended, however, to keep a child in a booster based on their height rather than age.
Ken Hayes, my co-host blogged about Proper Child Restraint in a vehicle after talking with Sergeant Baker last month.  Click [here] to learn what's legal and acceptable.