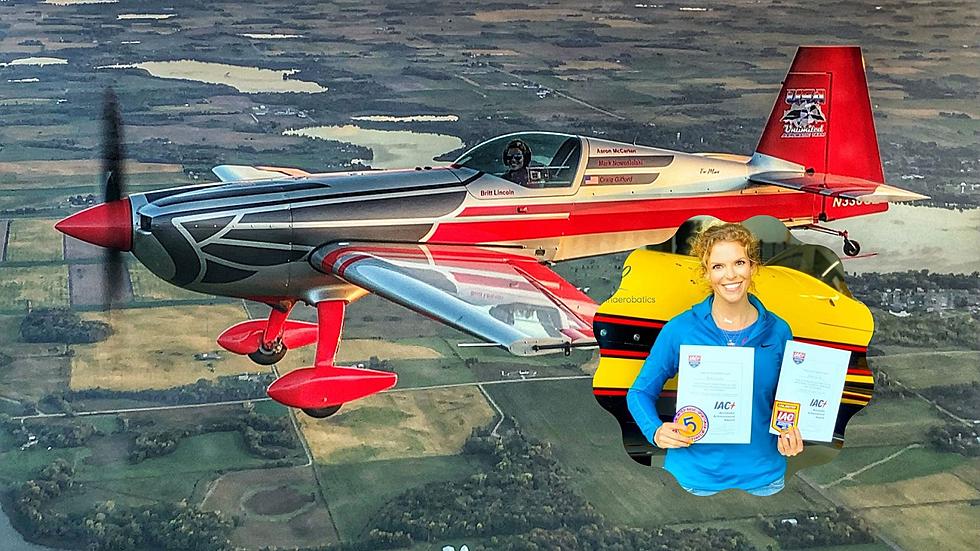 US National Aerobatics Team Member Britt Lincoln To Visit Duluth Marshall School
Britt Lincoln / Duluth Airshow
The Duluth Airshow returns Saturday, July 15, and Sunday, July 16, with the United States Navy Blue Angels headlining an impressive lineup that also includes the United States Air Force A-10 Demonstration Team, the United States Navy Leap Frogs Parachute Team, and more. Even "Maverick" will be in Duluth to hang out with everyone.
Another performer to look forward to will be the U.S. National Aerobatics Team and soon the students of Duluth Marshall School will get the privilege of meeting team member Britt Lincoln and getting a sneak peek at what everyone else will see in July.
The Duluth Airshow announced that U.S. National Aerobatics team member Britt Lincoln will be flying into Duluth on Tuesday, May 23rd. Britt will be speaking to students at Duluth Marshall School to inspire them to consider careers in STEM, Aviation, and Science related fields. She is also expected to give the lucky students a preview of her upcoming performance during this year's Duluth Airshow.
Duluth Airshow organizers boast that Britt Lincoln, a 4th generation pilot, is an accomplished competition aerobatic pilot with an impressive track record.
In her first two years of aerobatic competition, she won 8 of the 10 contests in which she competed in the Primary, Sportsman, and Intermediate categories. Britt recently earned the Unlimited Smooth Achievement Award which qualified her for the IAC 'All Five Special Achievement Award '. She is only the tenth woman in the 50-year history of the organization to achieve this feat.
It's great that the students at Duluth Marshall School will get to have this experience ahead of the Duluth Airshow. Remember, that advance tickets for the big event are on sale now, including Presidential Chalet passes.
The Presidential Chalet passes include your admission to the show along with a host of benefits at this year's event, including:
Reserved seats in the Presidential Chalet
Dynamic pricing. Pick your seat, location, and price point.
Relax in style and enjoy your Duluth Airshow experience by spending the day in their exclusive Presidential Chalet, which provides the best seats at the airshow.
This exclusive area features both shaded and outdoor seating (chairs are provided meaning outside chairs are NOT allowed), private amenities, and outstanding food and beverages at no additional charge.
You will also get to mingle with many of the Duluth Airshow Performers who call the Presidential Chalet home after their performances.
Please note the Presidential Chalet is a per-seat reserved area and requires a ticket to be purchased for each guest, regardless of age.
Who knows, you also just might bump into "Maverick" while you're there.
18 Celebrities You Could Run Into In Duluth, Minnesota
Which Twin Ports Restaurants Could Be Franchised?