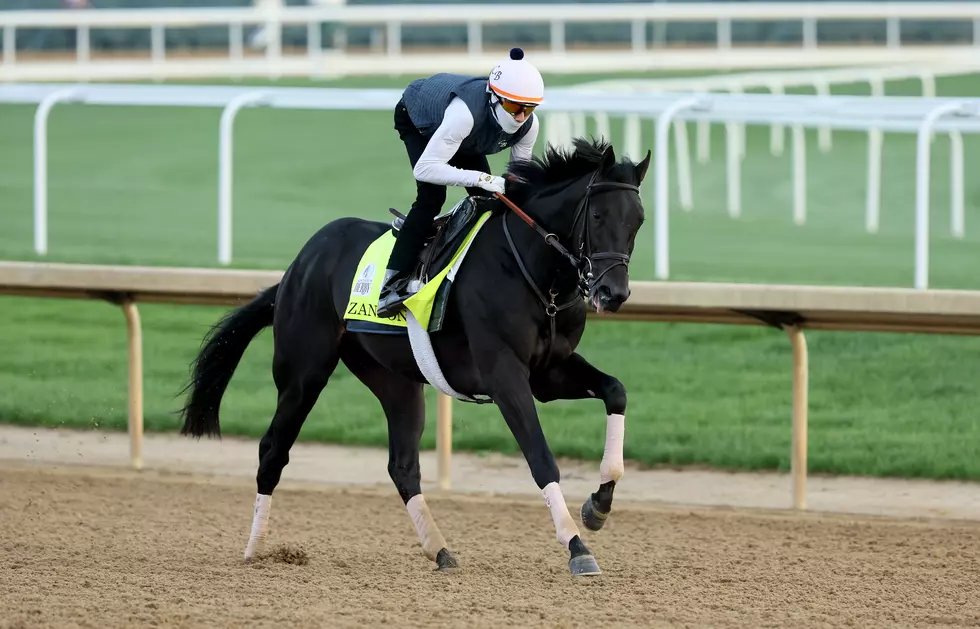 Two Minnesota-Owned Horses Are In The Kentucky Derby, And One Is Favored To Win
Getty Images
The Kentucky Derby features two Minnesota-owned horses, one owner from Clearwater, and the other from Eden Prarie. One of them is the odds-on favorite.
First, there is Zozos. According to Fox 9, the horse is owned by Eden Prairie natives Barry and Joni Butzow. The Kentucky Derby will be just the fourth race for Zozos. He won two of his first three races and earned his spot in Saturday's race after winning the Blue Grass Stakes in early April.
Then, there is Zandon. According to Fox 9, he is owned by Jeff Drown out of Clearwater, MN. Zandon has a 3-1 odds to win the whole thing, which is the best odds, so he is favored to win the Kentucky Derby. He drew lane 10. As you can see below, the lanes were posted on the Twitter account for the Kentucky Derby.
The other thing going for Zandon, according to the NY Post is his jockey Flavien Prat has one of the best records at the Kentucky Derby. Zandon also came off a very dominant win at the Bluegrass Stakes.
According to an article by Fox 9, the last time a Minnesota-owned horse raced in the Derby was 20 years ago. It was Unbridled in 1990, and that horse won the 116th Kentucky Derby. Another Minnesota-owned horse ran in the derby 20 years ago. It'sallinthechase finished 16th out of 18 in 2002. It is believed this could be the first time a Kentucky Derby has two Minnesota owners in the race.
That's how a Minnesota-owned horse does in that race. Minnesota is 1 for 2 in Kentucky Derby ownership. How do Minnesota-born horses do in the Kentucky Derby? According to WCCO CBS 9, they have not won a single race. That is because all the Minnesota-born horses race in a different climate and race in Minnesota.
According to the article, Minnesota-born horses have a racing season and then take it easy the rest of the year, instead of year-round training like the southern horses. That sounds like a Minnesota person. We have seasons and take off the winter to do other things.
Here are the odds for all the Horses From KentuckyDerby.com
Zandon - Odds: 3-1
Epicenter - Odds: 7-2
Messier - Odds: 8-1
White Abarrio - Odds: 10-1
Mo Donegal - Odds: 10-1
Taiba - Odds: 12-1
Smile Happy - Odds: 20-1
Crown Pride - Odds: 20-1
Charge It - Odds: 20-1
Cyberknife - Odds: 20-1
Zozos - Odds: 20-1
Simplification - Odds: 20-1
Happy Jack - Odds: 30-1
Summer Is Tomorrow - Odds: 30-1
Tiz the Bomb - Odds: 30-1
Pioneer of Medina - Odds: 30-1
Barber Road - Odds: 30-1
Classic Causeway - Odds: 30-1
Tawny Port - Odds: 30-1
Ethereal Road - Odds: 30-1
The Kentucky Derby will be on NBC this year, coverage will begin at 1:30 p.m. ahead of the eighth race of the day.
Ways A Minnesota Summer Is Much Like Winter
It might not seem like it on the surface, but a Minnesota summer has a lot in common with a Minnesota winter. From a strictly meteorological standpoint, they are the polar opposites of each other. However, many common themes, elements, and principals thread their way through each of the seasons.
Some of the similarities involve the way we prep for each of the seasons. Other shared items involve rituals, chores, finances, and yes - even weather. (I know, you're thinking - how can the weather be the same in the summer and the winter; trust me - it can be - read on to find out how.)
One thing is for certain, though, as to how Minnesotans deal with summer and winter: True to our nature, we confront and embrace each of the seasons all at the same time.
10 Things You Should Never Do At A Wedding
These are things that you should never do when you attend a wedding.