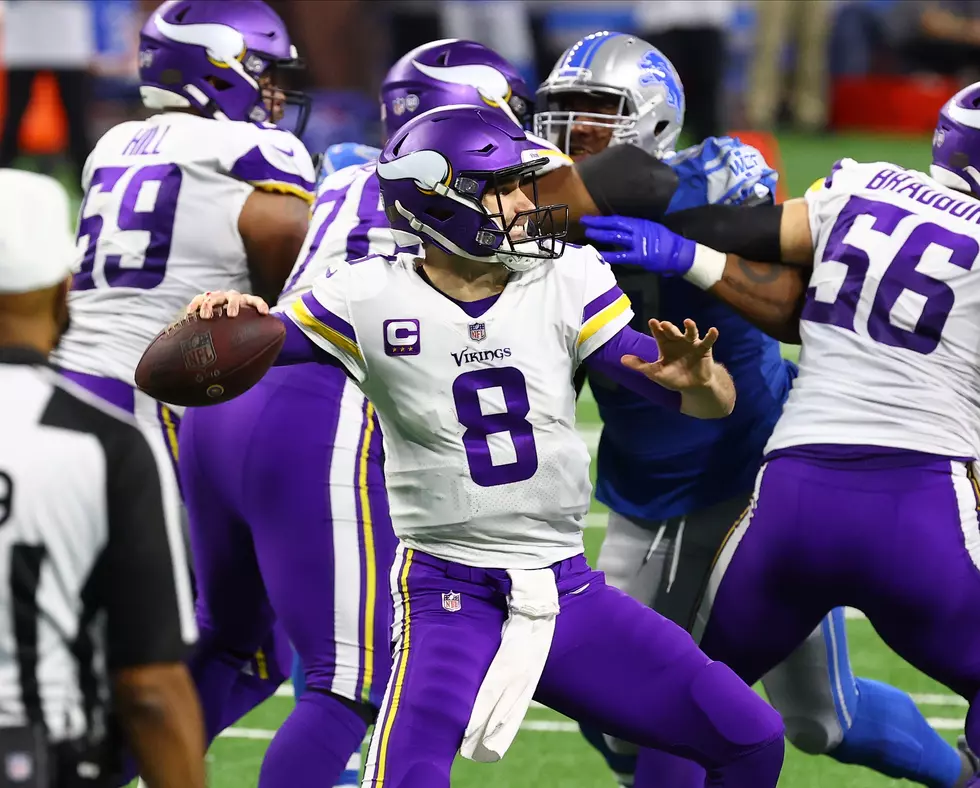 Kirk Cousins Named NFC Offensive Player Of The Week
Getty Images
The Minnesota Vikings finished the season on a high note by defeating the Detroit Lions 35-37 and Kirk Cousins led the offense with the most productive game of his career.
Cousins completed 28-of-40 passes for 405 yards and three touchdowns, and he also scored a touchdown on a quarterback sneak.  That performance earned him the NFC Offensive Player Of The Week.
Enter your number to get our free mobile app
This is the sixth time that Cousins has won an NFC Offensive Player of the Week Award, and the second one that he's won with the Vikings. He also won the award following his performance against the Carolina Panthers in Week 12 of this season.
While Kirk Cousins seems to draw a lot of criticism, he did finish the season with 35 touchdown passes, which is the second-highest total in team history for a single season. Daunte Culpepper holds the team record for touchdown passes in a single season, throwing for 39 touchdowns in 2004.
Unfortunately, his performance wasn't enough to propel the Vikings into the playoffs.  The Vikings still need offensive line help (sound familiar?) and, even more importantly, a healthy defense that continues to add players at just about every level.
The Vikings have the 14th pick in the first round of the upcoming NFL Draft and a majority of mock drafts have the Vikings adding defensive line help with their first round pick. Gregory Rousseau and Marvin Wilson are the two most common players being mentioned in mock drafts.
You could also make a case for selecting an offensive lineman, but the ultimate goal is to select a player who can be an upgrade at whatever position he plays and be someone who can be a contributor right away.
8 Things You Could Only Understand As A Vikings Fan
Which Acts Do Northlanders Want To See Play The Super Bowl?