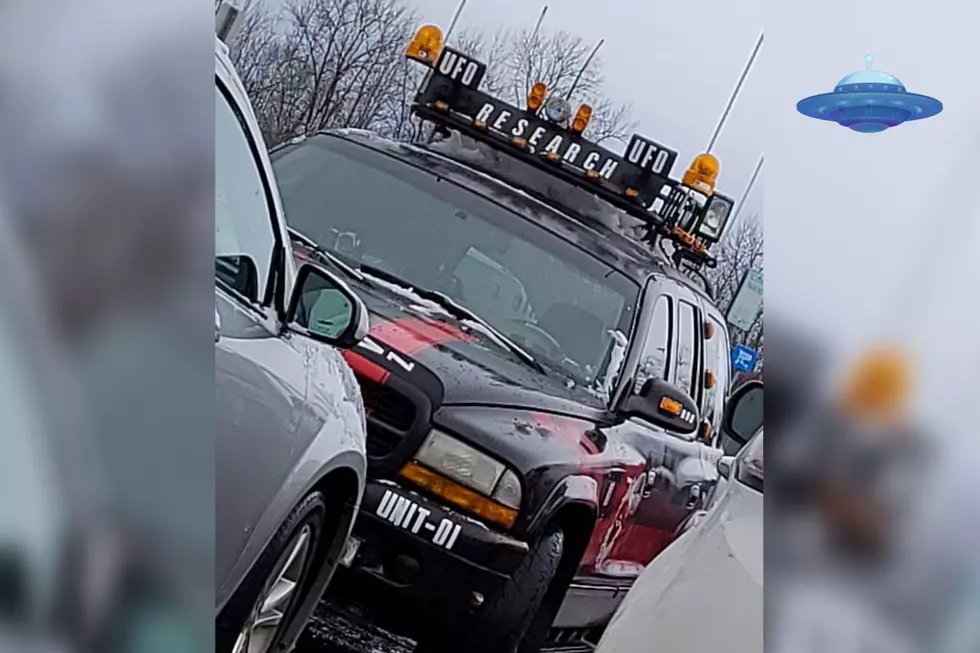 Does Anyone Know Who Drives This UFO Research Vehicle Spotted At Wisconsin Walmarts?
Sarah Cimermancic Facebook
A friend of mine was driving by a Walmart in Wisconsin and noticed this UFO Research Vehicle parked in the parking lot. Have you seen it? Do you know who it belongs to? I'd love to find out and see what they are up to.
Sarah snapped a photo of it as they drove by. She thought of me right away because apparently, I've become the UFO nutjob in the Twin Ports. It was unintentional, but it's a tinfoil crown that I'll wear I guess.
This SUV which appears to me to look like a Dodge Durango has an overhead storage rack that says UFO Research. It's also called UNIT-01 on its bumpers. Is there more than one of these?
The vehicle was seen at the Walmart in Ashland, Wisconsin. I did a google search and Facebook search trying to find a page or group affiliated with UFO Research, but I'm coming up empty. If someone knows who this is please contact me. I'd love to hear about some of their research.
I did find an article from Art's Almanac from 2017 where a very similar vehicle was spotted before. Once again it was in the Ashland area. Someone has to know this person, right?
That article was from before the Pentagon admitted that UFOs are real. They just changed the name to UAP which stands for Unmanned Aerial Phenomenon. They made jokes about the UFO Research vehicle, but fast forward just a few years and people and international governments are investigating them more openly than ever before.
Recent government reports show an uptick in UAP sightings. Some of them can be explained, but there are still hundreds of new sightings in recent years that cannot be explained.
Ashland is on Lake Superior, which has been known to be a hot spot for UFO sightings. UFOs could even be using Lake Superior to hide, as many of these UFOs have been seen going in and out of the water by the U.S. Navy.
If this is your vehicle, or you know who it is, please contact me and let me know. In the meantime, keep looking up!
Photos From Small Town Wisconsin UFO Days
I recently attended a UFO festival in a small, charming Wisconsin town. They claim to be the UFO capital of the world, with many sightings still occurring. It even made national headlines in the 1970s. I'll say this, the festival was out of this world.