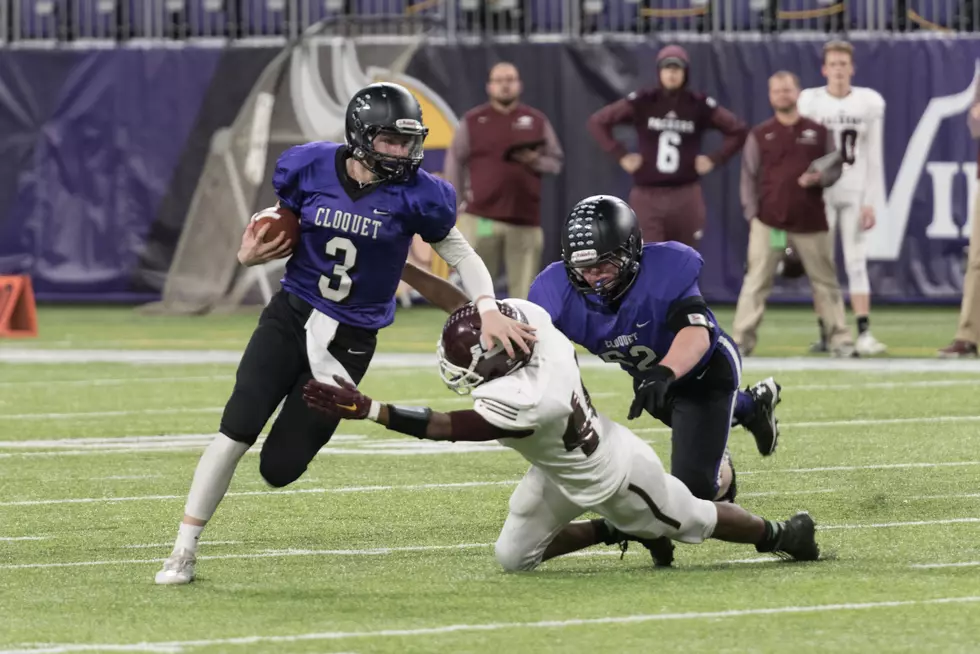 Cloquet Lumberjacks Put Away The Packers, Advance To State Championship After 40-21 Win
Nick Cooper - TSM Duluth
The undefeated Cloquet Lumberjacks protected their perfect record Friday night, defeating the South St. Paul Packers 40-21 in the 4A State Semifinal at US Bank Stadium. Quarterback Tim Pokornowski led the Lumberjacks with 249 rushing yards, 57 passing yards, a rushing touchdown, and a passing touchdown in the victory over the Packers.
Spencer Wehr opened scoring in the game, scoring on a 17-yard run in the early part of the first quarter. South St. Paul answered back with a 6-play drive that culminated in a touchdown to tie the game at the end of the opening quarter of play.
Aahsan Maigag broke the tie with a 1-yard touchdown run in the early minutes of the second quarter, and a South St. Paul fumble gave the ball back to Cloquet on the following drive would set up a 45-yard touchdown pass from Pokornowski to Maigag to make it 21-7. The Packers shrunk the gap on their next drive, scoring on a 58-yard touchdown pass just short of the halfway point of the second quarter. Pokornowski's longest run of the night came on a 59-yard touchdown dash with just under 4 minutes left in the half. The Lumberjacks closed out the half with a 21-yard Elijah Benson field goal to make it 30-14 at halftime.
After a scoreless third quarter, the Lumberjacks tacked on a 24-yard Benson field goal and Spencer Wehr secured the eventual Cloquet victory with a 3-yard touchdown run with three and a half minutes left on the clock. South St. Paul went on to drive successfully down the field one more time to bring the final score to 40-21.
The Lumberjacks advance to the Class 4A State Championship, which marks their first time returning to a state championship game since 1976. Cloquet's opponent in the championship game will be the Academy of Holy Angels. The championship game will be at 4:00 pm on Friday, November 24 at US Bank Stadium.