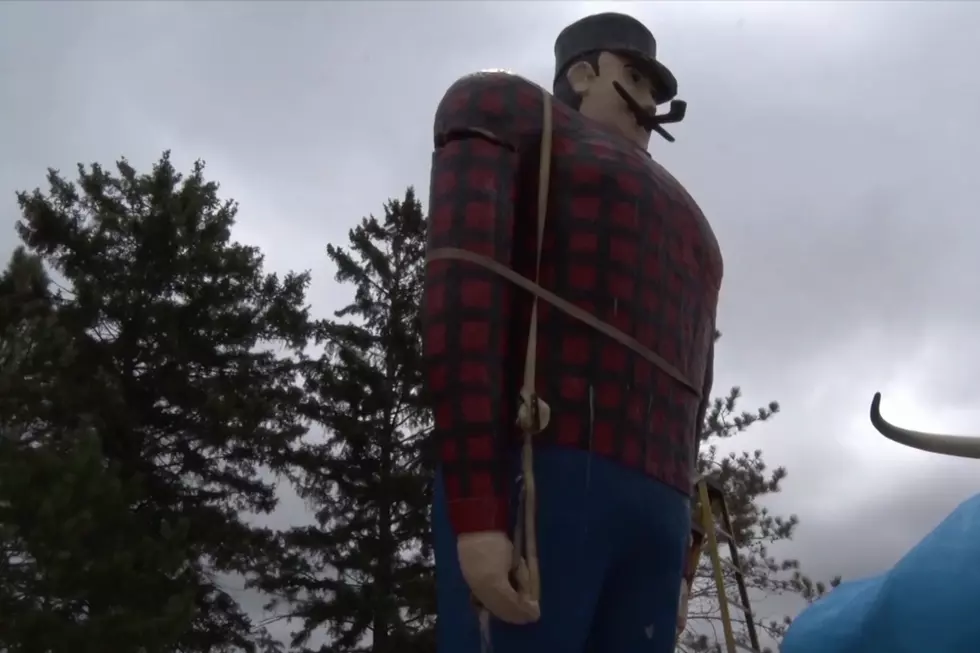 One Of Minnesota's Most Iconic Paul Bunyan Statues Suffers Broken Arm
Lakeland Public TV
The Paul Bunyan statue on the shores of Lake Bemidji in Bemidji, Minnesota is sporting a sling after his right arm began to separate from the body. Local PBS station Lakeland Public TV reports that a crack began to develop just below his right shoulder, which led to a separation that became apparent on Monday (May 3).
While the cement that makes up Paul's body gave way, rebar within the statue kept the arm from completely falling off. In an effort to secure the arm and make sure the park is as safe as possible for visitors, a sling of sorts was wrapped around the arm and a brace was placed under his hand to prevent further separation. A barricade was also placed around Paul and Babe to keep visitors from getting too close until repairs can be completed.
The Bemidji Pioneer (paywall) reports that an investigation is underway into why the crack and separation occurred. The City of Bemidji is working with Jensen Conservation to look into the damage and work to repair it.
Bemidji's mayor, Jorge Prince, shared photos on his Facebook page, expressing hope they can get his arm fixed soon, saying "I look forward to quickly getting Paul and Babe back in good repair along with addressing other issues in Paul Bunyan Park."
You can see a video report from Lakeland Public TV on the issue below.
Both Paul and Babe, who stand in Paul Bunyan Park near the Mississippi River inlet to Lake Bemidji, were due to undergo some restoration work this year anyway. A representative from the Bemidji Parks and Recreation Department told Lakeland Public TV that they had planned on having Jensen Conservation take a look at Paul & Babe later this month to assess what may need to be done to maintain the statues, but Paul's arm injury has pushed the project ahead.
The Paul & Babe statues were built in 1937, and at one time were called one of the most photographed statues in the United States.
Get well soon, Paul!
16 Questions To Avoid Asking A Minnesotan
Ever meet a Minnesotan? Make sure you avoid asking these questions about lakes, cows and the way we talk.