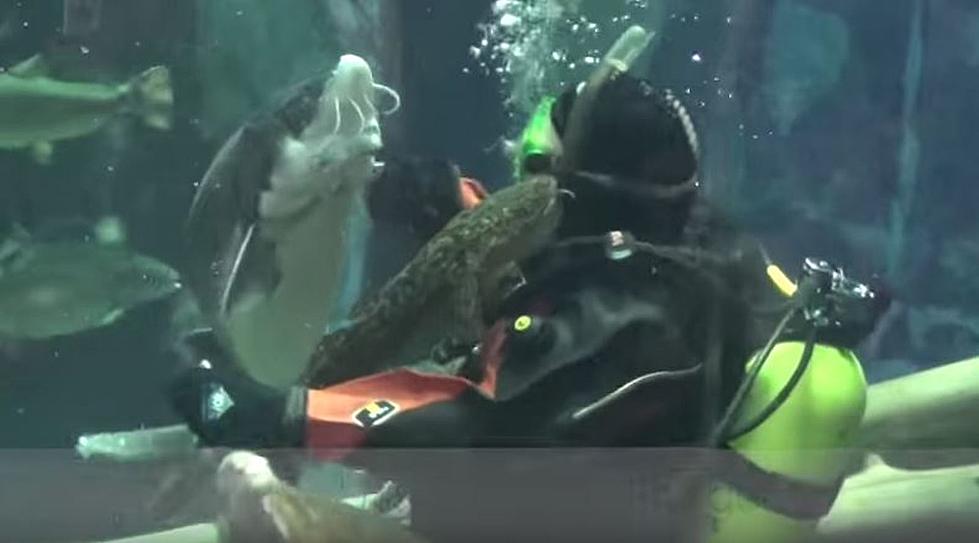 You Can Touch A Live Sturgeon At The Great Lakes Aquarium, Alan Kisses One During Feeding
Josh Koop-TSM Duluth
If you haven't visited the Great Lakes Aquarium lately it should be on your "to do" list to see the new Unsalted Seas Exhibit.  My favorite (and always will be) is the Otters, those little playful honeys!  But, my friend Alan White told me the tale that he gets to kiss the sturgeon and THAT I HAD to see.
I was told that there are near 100 volunteers from the Northland that help in various ways to attend to the Great Lakes Aquarium's daily tasks.  From being an exhibit interpreter to otter mascot to what Alan does, scuba dives to clean the tanks and feed the fish.  I was shocked to hear that an opportunity like that existed.
In the video you will go behind the scenes of the aquarium and learn how they prepare the food, what they eat (you'll be surprised), a bit more about the exciting new Unsalted Seas exhibit and yes, we'll even watch Alan kiss a sturgeon while feeding the fish for the delighted aquarium visitors.
The Unsalted Seas Exhibit holds 9,000 gallons of water and is the largest of its kind in North America.  Cool that it's in Duluth, MN, right?  The tank is designed so the fish have a place to rest, but on the other side of the tank is where the excitement awaits for you.  There are 12 giant sturgeon, some from Russia that are very gentle and are accustomed to being touched.  I thought it was a very unique and interesting experience, I'll leave the kissing of the sturgeon to Alan!