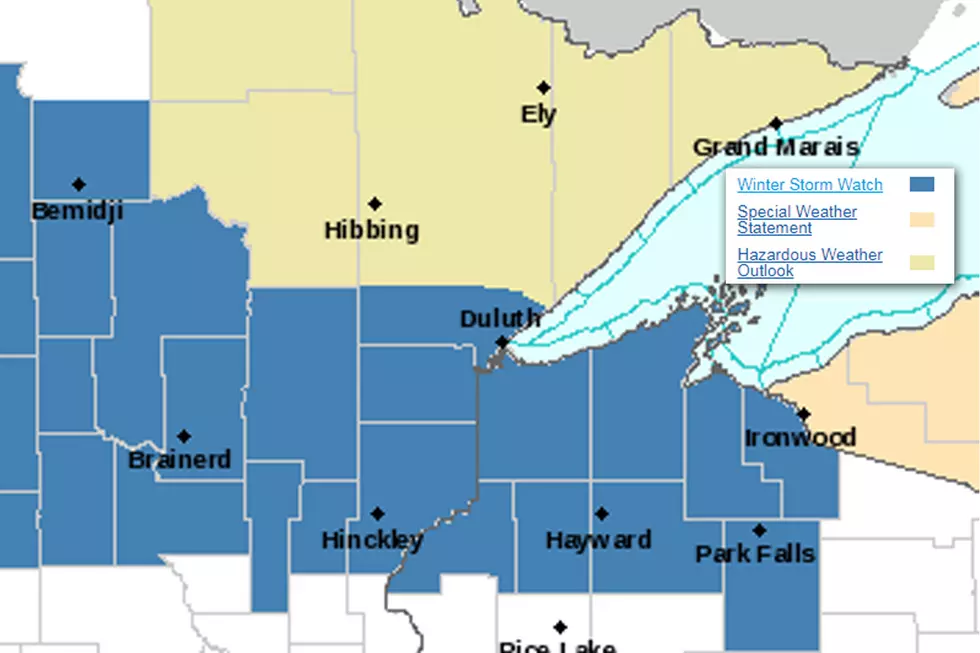 Winter Storm Watch Issued as Several Inches of Snow Expected to Kick Off Easter Weekend
Duluth National Weather Service
While Easter usually brings images of blossoming flowers and spring-like weather, this Easter Weekend forecast looks more Christmas-like, with a winter storm watch issued for a storm that could bring 6+ inches of snow to parts of the region.
That aforementioned winter storm watch goes into effect Friday evening, and remains in effect until Saturday morning for much of Central and East Central Minnesota, extending up to the Twin Ports area. This fast-moving storm will pack a punch overnight Friday night, bringing heavy snow and windy conditions that will make things messy late Friday and early Saturday.
What To Expect
Snow will push into the region Friday evening, starting in the Twin Ports area sometime between 8 and 10 pm. Snow will increase in intensity overnight, being very heavy at times between midnight and 5 am Saturday. Snow will wrap up by 8-9 am on Saturday morning, giving away to partly cloudy, but cool conditions.
Snowfall totals between 5-8 inches are anticipated in the warned area, with some locally higher amounts possible. Breezy conditions, especially during the later part of the storm and as the storm leaves the area, could lead to blowing and drifting snow.