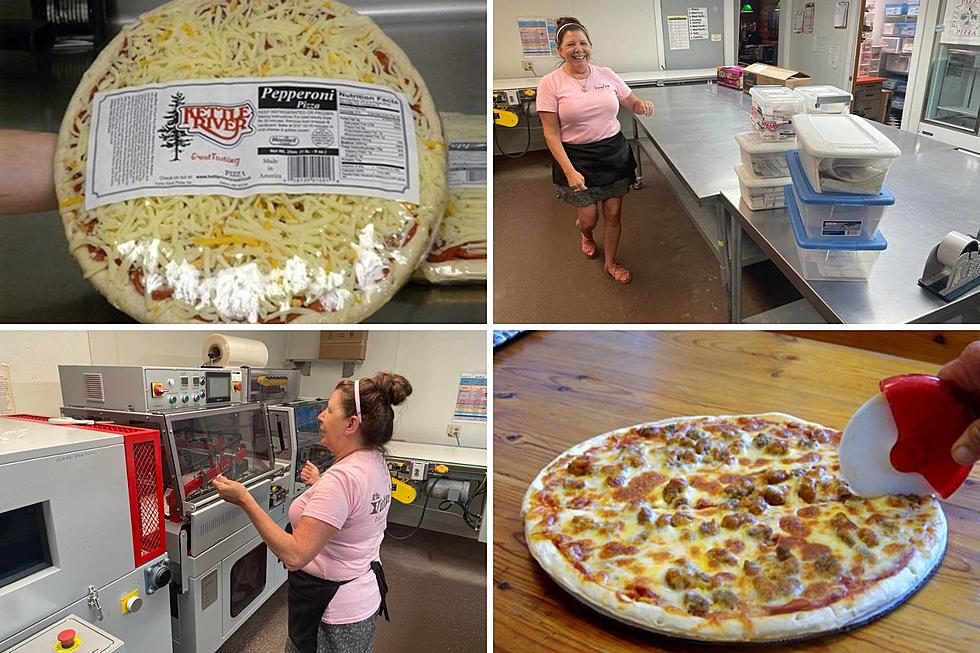 Where Minnesota + Wisconsin's Popular Frozen Pizza Actually Comes From Will Surprise You!
Kettle River Pizza / Ken Hayes
Have you ever had a Kettle River pizza? You can find them all across Minnesota and even into Wisconsin. I always assumed that frozen pizzas came from a big factory somewhere, and I was actually shocked to learn firsthand this weekend where they come from. It's a tiny little town in Central Minnesota, and they are made mostly by hand.
Kettle River Pizza is located in Askov, Minnesota.
We were camping nearby and heard about the Vintage Market and Music that was taking place. So we stopped into the Vintage Pub in Askov, where I met the owners Ken and Lisa Waletzko. Adjacent to the pub is Kettle River Pizza, and they also own that business as well.
I told them that I loved their pizzas, and asked where they make all of them. They said, right here. No way! This I gotta see.
Lisa was gracious enough to take me for a tour of their production. Don't let the little storefront deceive you. These folks can crank out some pizzas.
Lisa has a crew of about 16 workers who can produce up to 2,000 pizzas a day. In an average week, they produce around 4,500 to 7,000 frozen pizzas.
Recently, they purchased new equipment to help with the production. They bought a packaging machine that cost about $30,000.
Production didn't always take place at the Askov location. Kettle River got its start in Leonard Johnson's garage in 1986. It then moved to Hinckley where there it was made in a plant for a while. The business came up for sale, and the Waletzkos bought it. Ken was a distributor of Kettle River Pizza, and they jumped at the opportunity to own it. It was then brought to the Askov location in 2001.
I asked Lisa what makes the Kettle River Pizzas so good. She told me they were made with love, with quality ingredients, and they never compromise on quality. Even during pandemic supply change issues, they worked hard so they never had to make any changes to the ingredients.
Each pizza has a half pound of cheese. They use large bowls of mozzarella and weigh each portion of cheese. Each pizza is checked for quality and consistency. I'll say this, Kettle River is one of the cheesiest pizzas you can find in the freezer section.
And, speaking of freezers, Kettle River has 7 freezers that they keep their pizzas in before it's shipped out. That's a heck of a power bill.
A big part of their business is fundraising. They help many different organizations raise money by selling pizzas. Lisa says it's about 25% of their business.
They also do sell pizzas directly at the store. You get a discount if you order a case at a time! Check out their varieties. They have something for everyone, including gluten-free crust.
You can have some craft beer and wine at the Vintage pub and order a pizza to eat while you visit. I had some really good cider from the Vintage Pub, and it was a fun atmosphere.
So next time you're at the grocery store and you grab a Kettle River Pizza, know that it's made in a small town actually near the real Kettle River, just a couple miles down Highway 23.
10 Delicious Snacks With Minnesota Roots
7 Great Places To Get Ice Cream In The Northland