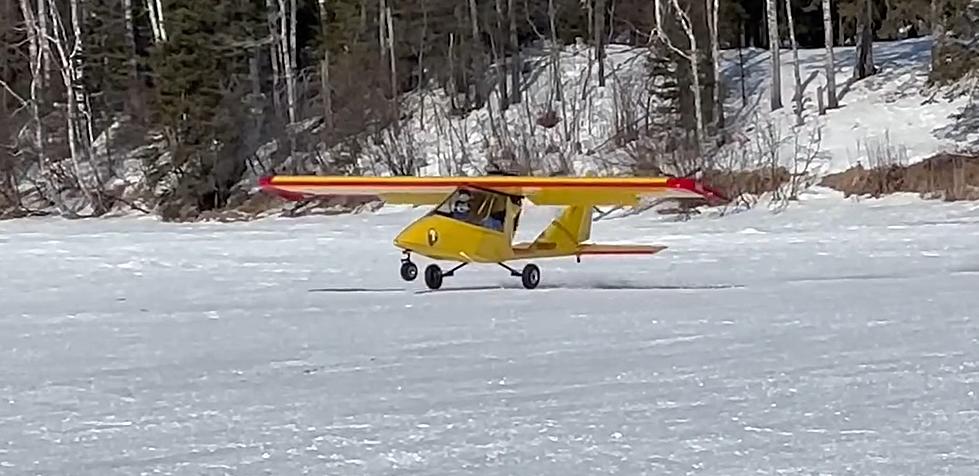 WATCH: Airplane Loses Landing Gear Taking Off From Fish Lake In Duluth
WDIO-TV
It was a busy weekend near Fish Lake in Fredenburg Township. Saturday, February 25, there were vintage snowmobiles everywhere with the Fish Lake Classic Snowmobile Challenge Reunion taking place, plus ice fishing and even a homemade airplane.
While there were many memorable moments, the most memorable was made by that airplane and its pilot on Saturday.
As what appears to be a home-built small airplane was taking off from Fish Lake, it noticeably lost part of its landing gear. The terrain appears to be very bumpy and just as the aircraft is about to take flight, part of the landing gear breaks off.
Thankfully, the pilot recovers and gets the plan into the air, which you can see in the video below that was captured by Josh Mourin and shared by our media partners at WDIO-TV.
However, the pilot needed to carefully plan his next move knowing that landing the airplane under such circumstances would be a dangerous proposition.
Luckily, the story has a happy ending. According to WDIO-TV, the Carlton County Sheriff's Office received a report at 12:58 p.m. Saturday of "a home-built, fixed-wing aircraft that lost part of its landing gear upon departure from Fish Lake in Fredenberg Township in St. Louis County."
The pilot, who was the plane's only occupant, initially decided to attempt an emergency landing at the Cloquet Airport. However, the pilot ultimately decided the safest place to attempt the landing would be on Big Lake. At 1:46 p.m., the plane landed safely on the lake.
The Fond du Lac Police Department, Cloquet Police Department, Cloquet Area Fire District, Minnesota Department of Natural Resources, and St. Louis County Rescue Squad responded to assist with the emergency landing. Emergency personnel and bystanders on Big Lake reported that no injuries occurred during the ordeal.
WDIO notes that the Carlton County Sheriff's Office and Fond du Lac Police department are continuing to investigate this matter along with the FAA and the NTSB.
The 100 Best Places to Live in the Midwest
MORE: Some of the Memes & Tweets That Have Made Us Laugh (and Maybe Think)