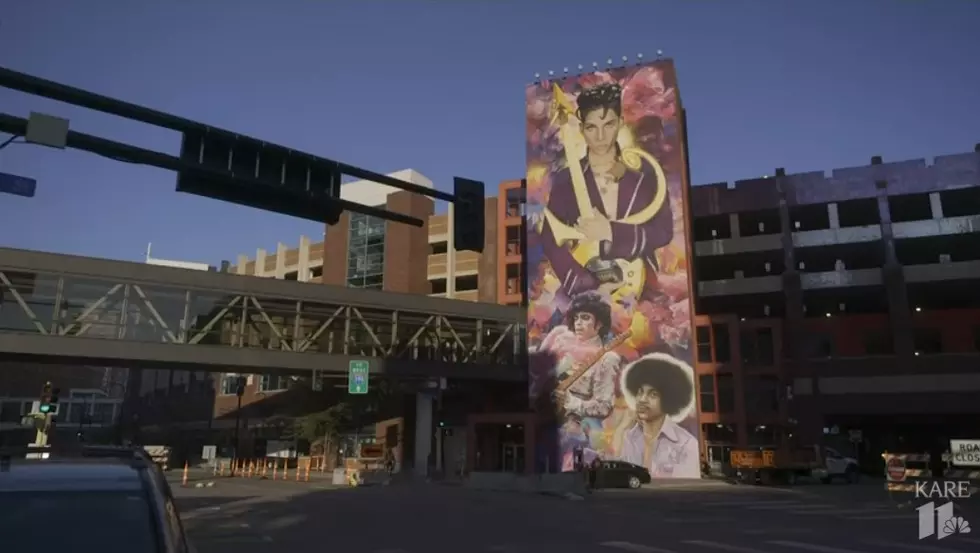 The Giant Mural Of Prince Is Finally Finished And On Display In Downtown Minneapolis
Photo: KARE11 Via YouTube
What a fitting tribute in my opinion for one of the greatest performers of all time. Prince has been honored in literally a big way with a beautiful 100-foot high hand-painted mural in downtown Minneapolis. The mural is located on 1st Avenue and 8th Street, on the side of parking Ramp A and starts with an early look at Prince when he first started out in the music scene as a teenager then the Purple Rain era to how he looked before his untimely death. The mural was painted by Miami-based mural artist Hiero Veiga who was selected from a group of 60 artists total worldwide!
Prince loved Minneapolis and Minnesota so much and never forgot where he came from even staying out at his home and studio of Paisley Park for a majority of the time as he got older. Also, on June 7 according to KARE11 a one-block stretch of the street outside the World Famous Club First Avenue will be renamed Prince Rogers Nelson Way on June 7!
Tonight there will be a massive party for the official unveiling of the mural being dubbed the "Crown Our Prince" party.  The party is free and open to the public from 7-10 pm with live music and a purple light show at 9 pm.
According to KARE11 Sharon Smith-Akinsanya, CEO of Rae Mackenzie Group and co-organizer of the Crown our Prince project said:
It's very emotional for me because I started this seven years ago when Prince was still alive. We had conversations in 2015. I used to work for him. It was devastating when we lost him just a year later. But we did know he was okay with the mural. So we did get that much information out.
What a beautiful tribute and one that will be around for years to come. For the next 30 years as a matter of fact the mural will be maintained by the Downtown City Council of Minneapolis and the state of Minnesota. Like Prince's sister said in the video above he will be with everybody tonight as they celebrate. I will be there in spirit and know for a fact the next time I am down in Minneapolis this is the first place I am going to stop to see this breathtaking mural myself.
Hear The Stories Behind The Most Iconic Prince Songs
Stories about songs by the artist Prince
Minnesota Musicians Who Have Made An Impact