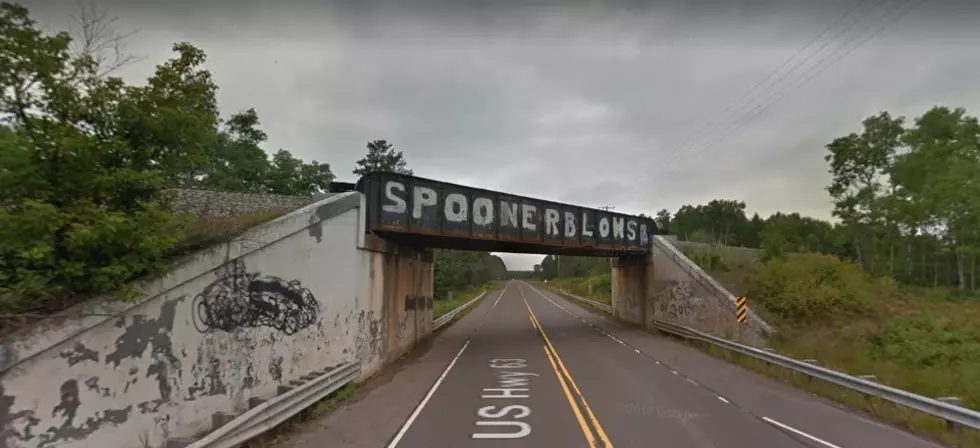 'Spooner Blows' Graffiti On Railroad Bridge Gets Colorful Update
Google Maps
If you've ever been traveling on Highway 63 west from Hayward, odds are you have seen this graffiti that reads "Spooner Blows." It's been on the railway bridge for many years, and every so often someone breaks the law and refreshes the painting. It's criminal behavior, but that doesn't stop people from updating it.
Enter your number to get our free mobile app
I remember driving back from our camping trips to the Hayward KOA that this was an attraction we saw each time. This has actually become a point of interest for many people, as silly as it seems. We found ourselves keeping an eye out for the bridge each time we passed through.
Back in 2017, it was reported that the BLOWS section had been painted over according to Drydenwire.com. But, just last year I saw it was back up in original form. Now in 2020, there's been a colorful update just shared.
The question remains how people get this done without getting caught? Some people have been caught in the past, but it looks like people get away with it enough that it's worth the risk for some. Obviously this is a dangerous thing to do, and in no way do we encourage anyone from breaking the law.
The bridge located near Springbook, Wisconsin also has it's own Facebook page. Local legend has it that the graffiti started as a rivalry between Spooner and Hayward. The direction towards Spooner reads 'Spooner Blows.' At times 'Hayward Sucks' has been seen on the direction heading towards Hayward.
Foods Wisconsin Is Known For