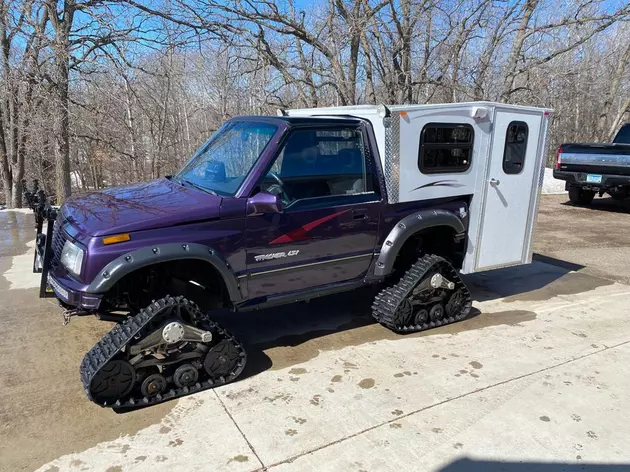 Somebody Converted A Geo Tracker Into A Fish House In Minnesota & It's For Sale
Ben Miller Facebook Marketplace
Honestly, I'm kind of impressed. Somebody converted a 2000 Geo Tracker into a fully functional fish house. It can be yours now at a reduced price!
It was listed 3 weeks ago in Alexandria Minnesota on Facebook Marketplace for $20,000. Recently the price has dropped to $16,200. The seller claims that it has low miles and is in great shape. The photos seem to suggest that it has indeed been taken care of.
The seller, Ben, says it has two heat sources and keeps you warm. It also has four-wheel drive with tracks instead of wheels. The tracks were rebuilt last year. The fish house portion of the vehicle is made out of aluminum. Apparently, this thing will go through anything on the lake.
The interior looks like it's in good shape. You can see that he's got a hummingbird mounted on the dashboard. Also very important to point out that it is a manual transmission, as many Geo Trackers were. So make sure you can drive a stick if you want to bring this out on the ice.
I've got to say I'm actually impressed with the setup in the back for the fish house. It's got an inverter hooked up for power. There are also DC plug-ins. I love the idea of mounting the flasher above the hole permanently. The listing doesn't mention if electronics are included. For the price, you would hope they would be.
According to the listing, it also has a mounted TV, but I couldn't find a picture anywhere. The vehicle also has a 2" lift and hydraulic lift. It looks pretty sharp on the ice.
If you don't have the cash upfront, you might have difficulty financing something like this. It's not that easy to find something comparable for the value that a bank could sign off on. But if you got the cash, you could turn some heads next time you are out on hard water.
States with the most registered hunters
Stacker
analyzed data from the U.S. Fish and Wildlife Service to determine which states have the most registered hunters. Read on to see how your state ranks on Stacker's list.