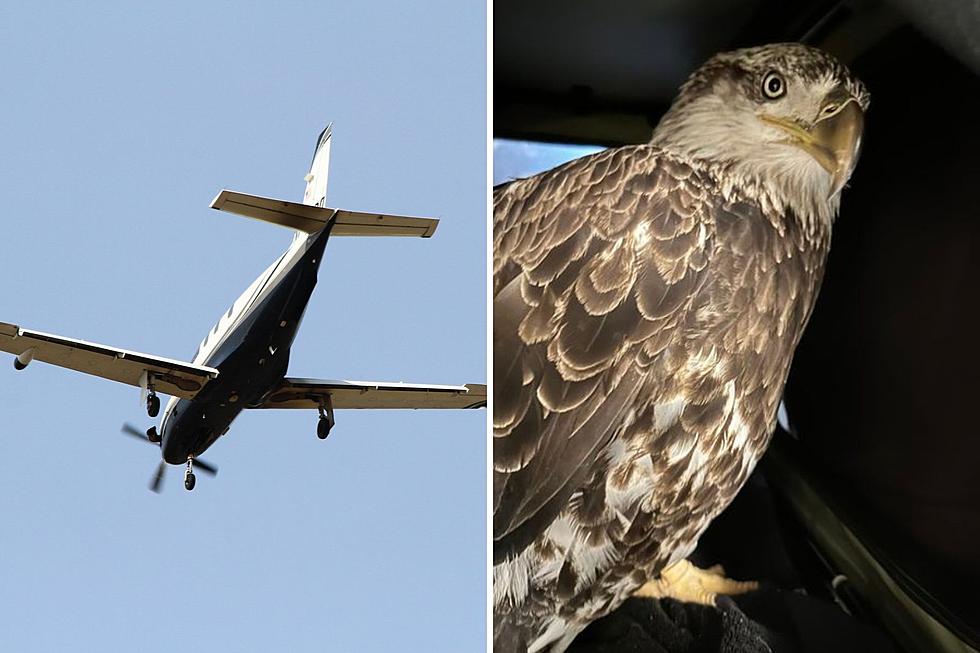 Pilots Save Eagle After It Crashed Through Their Windshield During Landing Near Duluth
Wildwoods Rehab Facebook
This is a first for anyone involved in this incident. Wildwoods Rehabilitation posted a couple of rescues they brought in from this last weekend. One involved a bird strike on a private plane landing at a local airport.
According to Wildwoods, a 3-4-year-old bald eagle was brought in by a student pilot and their instructor after it crashed through the cockpit during a landing. While descending, the private plane struck the eagle and it broke through the windshield, landing in the cockpit. They didn't disclose what airport the bird strike took place at.
The eagle sustained cuts from the shattered windshield. One pilot also received some cuts from the broken glass but is doing ok.
The staff at Wildwoods didn't think the eagle had much of a chance, but they administered emergency care anyway. She ended up perking up and is now recovering at The Raptor Center. They are thankful to the student and pilot who took great care of the bird and quickly brought her to the rehabilitation center on Arrowhead Road.
Separately, another bird was taken into Wildwoods this weekend. A Menard's worker found a saw-whet owl on the ground in the lumber yard. They brought the owl in for care and is now at the raptor center.
The nonprofit organization is always accepting donations, and they currently have a $3,500 match going on now. They are expecting more animals needing care as the season turns to spring and more animals become active.
LOOK: Here Are 30 Foods That Are Poisonous to Dogs
To prepare yourself for a potential incident, always keep your vet's phone number handy, along with an after-hours clinic you can call in an emergency. The ASPCA Animal Poison Control Center also has a hotline you can call at (888) 426-4435 for advice.
Even with all of these resources, however, the best cure for food poisoning is preventing it in the first place. To give you an idea of what human foods can be dangerous, Stacker has put together a slideshow of 30 common foods to avoid. Take a look to see if there are any that surprise you.