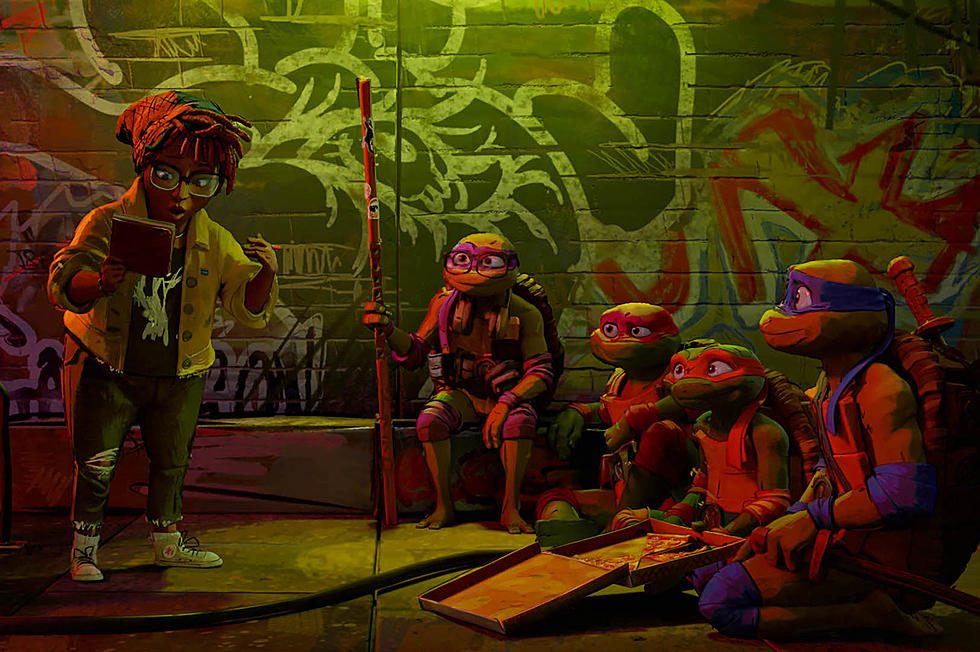 'Ninja Turtles: Mutant Mayhem' Trailer: These Turtles Really Are Teenagers
Paramount
There have now been so many different iterations of the Teenage Mutant Ninja Turtles. There were the original Eastman and Laird comics, the classic cartoon series, the live-action movies, the Archie and Image comics, the various reboots of the cartoon. How is series about mutated turtles who are not only ninjas they are also — Ar you sitting down? You want to be sitting down for this. — teenagers so endlessly renewable? It is one of the great mysteries of the pop culture universe.
The newest revamp of the Ninja Turtles, Teenage Mutant Ninja Turtles: Mutant Mayhem, comes from producers Seth Rogen and Evan Goldberg, and it really emphasizes the teenage aspect of the characters. The cartoon Turtles and most of what followed looked like buff superheroes; these turtles are a lot scrawnier and ganglier — like teenagers — with attitudes to match. And Rogen and Goldberg were the guys who wrote Superbad. If you want a movie about teenage mutant ninja turtles, you could do a whole lot worse.
You can check out the latest trailer for the movie below:
READ MORE: Why the First Ninja Turtles Movie Is an Overlooked Comic-Book Classic
Here is the film's official synopsis:
After years of being sheltered from the human world, the Turtle brothers set out to win the hearts of New Yorkers and be accepted as normal teenagers through heroic acts. Their new friend April O'Neil helps them take on a mysterious crime syndicate, but they soon get in over their heads when an army of mutants is unleashed upon them.
Teenage Mutant Ninja Turtles: Mutant Mayhem is scheduled to open in theaters on August 2.
The Worst Disney Live-Action Remakes
Disney has made billions repackaging their animated classics as live-action movies. But the results haven't always been good...