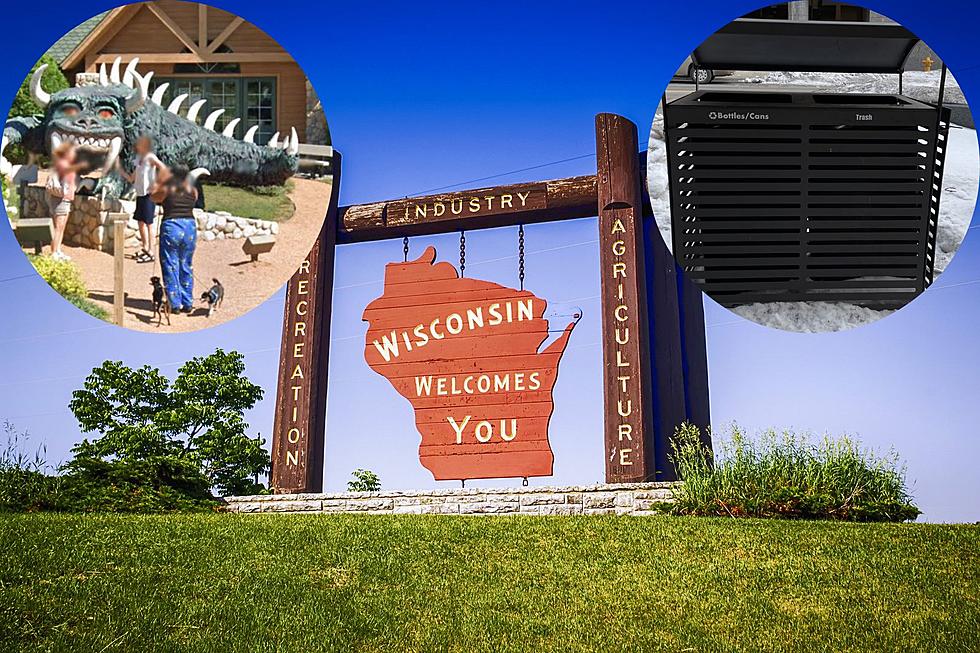 The Ten Trashiest Wisconsin Cities In The Badger State
csfotoimages, Google Maps Street View, Ian - TSN Duluth, Canva
Have you ever seen the not-so-clean parts of Wisconsin? Let's talk trash about some of the cities in the Badger State that get a bad reputation.
You may have heard the saying "one man's trash is another man's treasure", or even the classic "no matter how much glitter you add to garbage, it does not change that it is still garbage".
Unfortunately, some people find trashy cities in every state. If you live in these towns you may or may not agree, however, someone clearly does. I'm not saying I agree with this list, but I have been to a few of these towns.
In case you didn't know, the Merriam-Webster dictionary defines trashy as:
Road Snacks used "science" and data from the government Census, FBI data, Google Maps, and more. They also used the data to find the cities with high numbers of high school dropouts, high drug use, high crime rates, higher than average Payday Loan Outlets, cities where residents are poorer than average, and more.
Without further ado, see if the ten cities surprise you:
The Ten Trashiest Cities In Wisconsin
Janesville
Starting at number 10 is "Wisconsin's Park Place", Janesville. With a population of 65,942 Road Snacks gives decides to talk some trash about this town for having seven Dollar Stores, and two Super Wal-Marts.
Monroe
Coming in at number 9, is "the Cheese Capital of the U.S.", Monroe. Just near the Illinois border, you'll find a population of 10,437. According to the website, the town also ranks 11th in statewide drug use, and 3rd in assaults.
Sparta
Located on the La Crosse River is where you'd find number 8, Sparta. No signs of Leonidas or a pit to be kicked into, however, it is "The Bicycle Capital of America". The town has a population of 9,517 and apparently, 7% are deadbeat dads (according to Road Snacks).
Sheboygan
Some call it "Spirit on the Lake", but 49,812 people call Sheboygan home. Coming in at number 7 overall, it comes in at 11th in drug use for cities with a population under 50,000.
Waupaca
With a population of 7,439 the city of Waupaca is in the sixth spot. The town also ranks 3rd in drug use with smaller towns.
Antigo
Just Northwest of Green Bay is the town of Antigo with a population of 8,191. It comes in 5th on this list and also comes in 7th for assaults in small towns.
Rhinelander
You can find this small town coming in at the 4 spot and nestled in Wisconsin's Northwoods. The town has a population of 7,468.
Beloit
Located in Rock County is Beloit coming in at number 3. The town has a population of 36,609 and has a 17% of high school dropouts.
Racine
Located along the shores of Lake Michigan and coming in at number 2, is Racine. The town comes in at 5th for aggravated assaults, 3rd for drug use, and a population of 77,145.
Wausau
Ranking 1st overall for trashiest cities is the town of Wausau. With a population of 39,661 the town ranks in the top 10% for several categories, including most amount of high school dropouts, a high number of payday loans per capita, and more.
You can check out the full list here, and if you're curious about the top 3 least trashiest cities in Wisconsin:
Fox Point
Mequon
New Berlin
Minnesota's 15 Highest Property Tax Cities
15 "Anti-Minnesota Nice" Nicknames For Towns