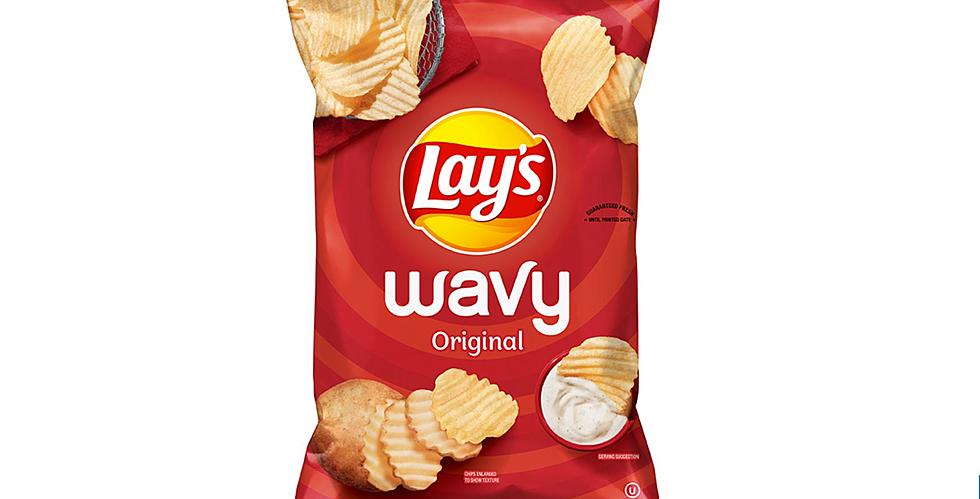 Frito-Lay Wavy Original Potato Chip Recall
Frito-Lay/PepsiCo
The Frito-Lay company has issued a voluntary recall of a limited number of their Wavy Lays Original Potato Chips due to an undeclared milk ingredient in the processing.  The concern would be those people who have sensitivities or allergies to milk and dairy products.
According to details released by the U.S. Food and Drug Administration, the "recall is the result of an investigation following a consumer contact".  However, the agency is reporting that there have been no allergic reactions reported at this time and no medical issues associated with the Wavy Lays potato chip product.
Here are the specific details about the recalled potato chips:
Product Name:  Wavy Lays Original Potato Chips
Size:  7 3/4 ounce (219.7 grams)
UPC code:  0 28400 04380 9
Code date and Manufacturing Code:  "Guaranteed Fresh" date of 02 Nov 2021 and the manufacturing code 1712 17944 85 21:20 - or - "Guaranteed Fresh" date of 19 Oct 2021 and the manufacturing code 1713 20044 18 03:37
According to the US Food and Drug Administration, no other Lay's products - potato chips or other - are included in the recall.  Additionally, no other flavors, sizes, or variety packs are included, either.
Consumers are urged not to eat the recalled product; this is especially true for those with known allergies or sensitivities to milk and dairy ingredients.  Customers are directed to "discard the product immediately". Questions can be directed to the Frito-Lay Consumer Relations department:  1-800-352-4477.  Additional details can be also be found on the companies website:  fritolay.com.
Frito-Lay manufactures and distributes 29 different snack brands, operating underneath the PepsiCo company umbrella. It's origins are traced back to 1932 in San Antonio, Texas with the company that manufactured Frito corn chips and to the H.W. Lay & Company in Nashville that started making potato chips in the same year.  The Frito and the Lay companies merged in 1961 to form Frito-Lay, Inc.  A few years later - in 1965 - Frito-Lay, Inc. merged with Pepsi-Cola to form PepsiCo.
Foods Synonymous With Watching Baseball
Foods That Are At Their Peak In The Fall Of The Year
KEEP READING: 3-ingredient recipes you can make right now
LOOK: 15 Discontinued McDonald's Menu Items
LOOK: See Photos of the Year From the International Photography Awards