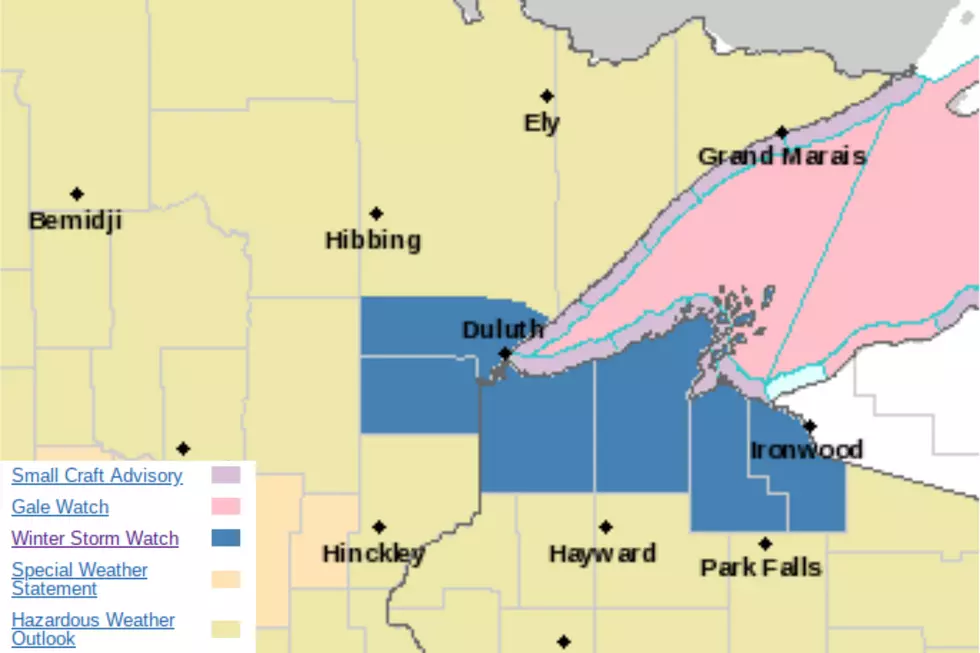 Winter Storm Watch Issued For Twin Ports Region For Sunday Night Through Early New Year's Day
NWS
Mother Nature is trying to pack as much snow as it can into 2018. The National Weather Service has issued a winter storm watch for Sunday night through 6 am Tuesday morning for the Twin Ports and the Wisconsin South Shore. A Winter Storm Watch means there is potential for snow accumulations greater than 6 inches that may impact road conditions and travel.
The potential of 4-8 inches of snow falling exists between Sunday night through early New Year's Day, with most of it falling through the day on New Year's Eve. There is a possibility of locally higher amounts in the Gogebic Range and Bayfield Penninsula areas.
While this storm isn't expected to bring the same 12+ inches of snow we saw from the storm a few days ago, travel conditions will be likely be difficult near Lake Superior as this snowfall occurs. 
Outside of the watch area, there is a potential of a few inches of snow across much of Northern Minnesota and Northern Wisconsin. You can see forecasted totals in the map below.
Another hazard to be aware of aside from the snow is bitter cold expected to follow this storm, with temperatures near zero degrees on New Year's Day and single digits on Wednesday, accompanied with dangerous wind chills.