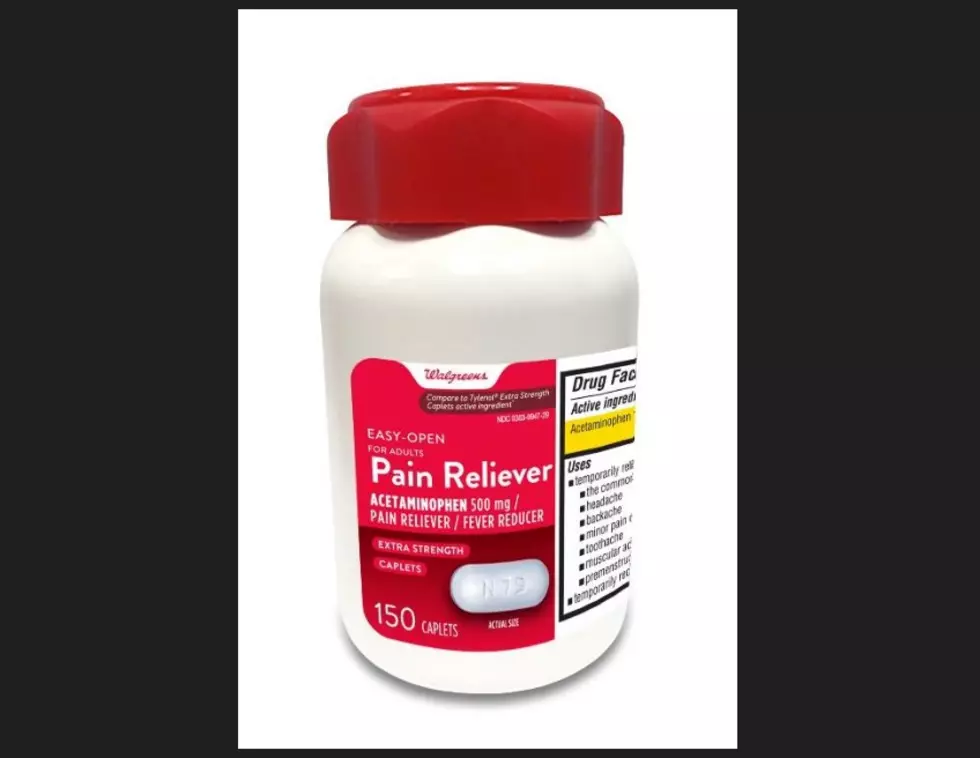 Walgreens Recalling Store Brand Acetaminophen Pain Reliever In Minnesota + Wisconsin
CPSC
A popular store brand of over-the-counter acetaminophen pain reliever is being recalled.  Aurohealth has issued the recall on their Walgreens-brand Easy-Open For Adults Acetaminophen Pain Reliver due to concerns over the packaging.  The product is sold nationwide - including Walgreens stores in Minnesota and Wisconsin.
According to details being shared by the Consumer Product Safety Commission, the issue isn't with the product inside, but with the outside packaging.  As a regulated substance, "Acetaminophen....must be in child resistant packaging as required by the Poison Prevention Packaging Act (PPPA).  The packaging of the products is not child resistant, posing a risk of poisoning if the contents are swallowed by young children".
The 500 milligram, 150-count caplet battles were sold between October 2021 and April 2022 for about $9 at Walgreens stores nationwide.  The red and white label reads "Walgreens, Easy Open for Adults, Pain Reliever, Acetaminophen, 500 mg, Fever Reducer, Extra Strength, 150 caplets."  UPC number for the recalled product is 311917218090.  Lot numbers are P2100627, P2100671, P2100672, P2100689, P2100747, P2100859; each of these has an expiration date of "NOV-2022".  There is also a lot number P2200050 that has an expiration date of "JAN-2023". All of these codes and numbers are visible on the back side of the bottle packaging (see example):
At the present time, there have been no reported medical concerns or illnesses involved with the recalled product.
Consumers who have the recalled product in their possession should put it in "a safe location out of reach and sight of children".  You should return the bottle to the Walgreen it was purchased from - or the nearest location to you.  You can also contact Aurohealth for information on how to make a return.  Their toll-free number is 888-504-2014.
Things To Know For Your First Time Donating Blood
Donating blood can save lives. It's really important to donate if you meet the eligibility guidelines. If you've never donated before it might be overwhelming. Here's some information to help you get started.
KEEP READING: 15 Natural Ways to Improve Your Sleep