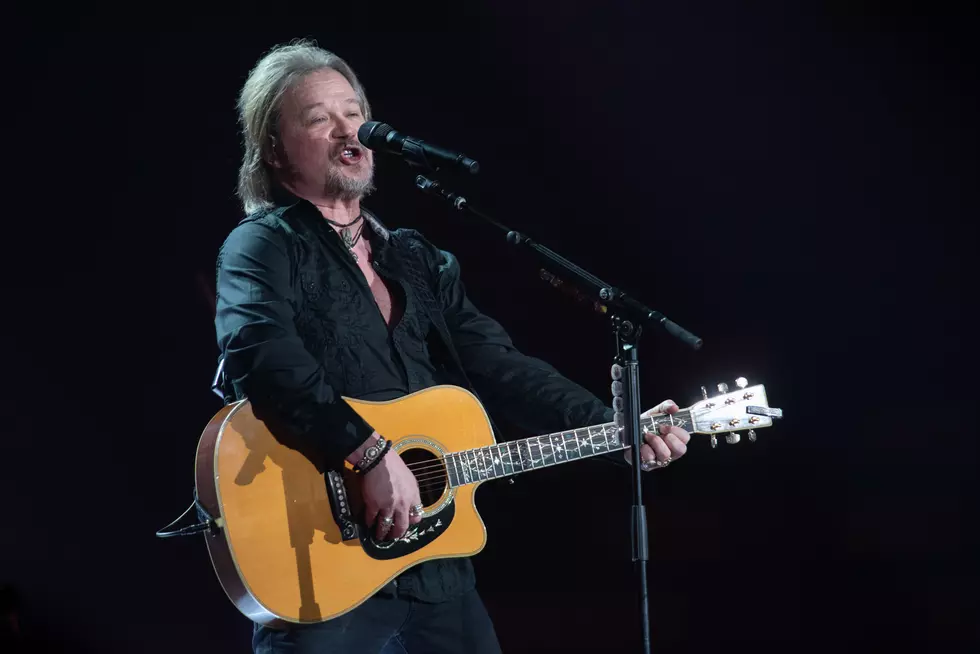 Travis Tritt Makes Sunday A Great Night To Be At Duluth's AMSOIL Arena [PHOTOS]
Nick Cooper - TSM Duluth
There's been no lack of opportunities for country music lovers to get out and enjoy live shows at some of Duluth's premier live venues in recent days! Just days after Jake Owen was at Bayfont, 1990's country legend Travis Tritt headlined a night of music at AMSOIL Arena.
Travis was joined by opening acts Derek Jones and Minnesota act Maygen & The Birdwatcher. Here's a recap of the night, along with a photo gallery from the performances.
First to the stage was Maygen & The Birdwatcher, who call the Twin Cities area home. The 6-piece band, who cover a gamut of country, bluegrass, folk, and more, was excited to take to the stage at AMSOIL for the first time. They introduced the audience to a number of their original pieces, including a sampling from their new EP, "Bootleggin' At The Flower Shop", which comes out later this summer.
The group highlighted a song they had just released a day before their performance, called "No, Joe!", which will appear on their new EP. While most of their performance stuck to more of a folk-bluegrass vibe, the group ended their set showing off their bluesier side with a song called "Anytime" from their 2021 album Moonshine. Asking the audience for their permission to "rock out" a little, the song was a great finale, showing a little more of the group's range.
Second up for the evening was Derek Jones, a US Navy Veteran-turned country singer from Indiana. Jones cranked things up a notch, with his gravely voice and heavier guitars supporting a no-nonsense brand of Country Music that resonated with the crowd.
Jones's set included songs like "Meant To Be", "Last Of A Dying Breed", and a spot-on cover of Steve Earle's "Copperhead Road". Following through on his no-nonsense vibe and respect for the roots of the genre, Jones included his perspective on the state of current popular Country Music with his song "Somethin' Different". He finished his set by telling the audience a little about his time in the military, before launching into his crowd-pleasing "Free To Leave".
Headlining act Travis Tritt took to the stage after Derek Jones, offering what felt like a timewarp for longtime fans of the legendary singer. While he coyly admitted a few times through his set that he's been in the business for a long time, that didn't stop the 59-year-old Tritt from bouncing around on the stage and sounding great in the process.
While Tritt played a few songs from his 2021 album Set In Stone, he stuck mostly to his big hits from his career. Among those hits he performed included "I'm Gonna Be Somebody", "Whiskey Ain't Workin'", "Anymore", "Here's A Quarter", "Modern Day Bonnie & Clyde" and his first hit "Country Club".
He spent some time paying tribute to legends Waylon Jennings and his personal friend Charlie Daniels with covers of "Mammas Don't Let Your Babies Grow up to Be Cowboys" and "Long Haired Country Boy".
Tritt included fan favorites "It's A Great Day To Be Alive" and "T-R-O-U-B-L-E", along with a medley of some of his biggest love song hits like "Drift Off To Dream" and Help Me Hold On", giving the audience plenty of opportunities to sing along, dance, and put their arm around their special someone through the course of his set.
Check out some of our photos from the show! Here's a full gallery from the evening of music at AMSOIL Arena:
Travis Tritt at AMSOIL Arena
Travis Tritt headlined a Sunday night show at AMSOIL Arena in Duluth along with guests Derek Jones and also Mayen & The Birdwatcher.