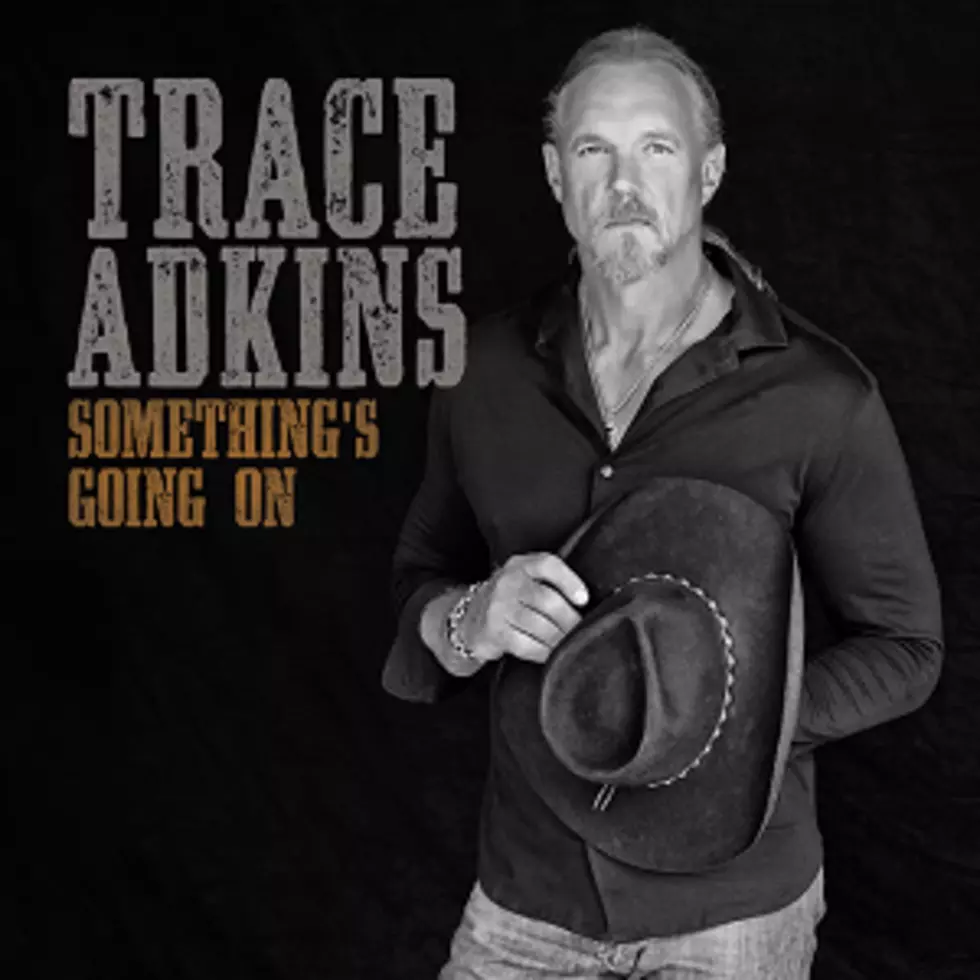 Interview: Trace Adkins Talks Happiness, Hard Work and 'Something's Going On'
Wheelhouse Records
In the nearly four years since Love Will ...'s release in May of 2013, Adkins entered rehab for alcohol addiction and went through a painful divorce, ending 16 years of marriage. Instead of shying away from the difficulties he's experienced in the past few years, the tunesmith channeled his heartache, and embraced the next chapter of his life, for Something's Going On.
"I tried to put some stuff on there that reflects where I'm at in my head, which I always try to do," Adkins tells The Boot. "You can go back through years and look at the album cuts on my records, and you can discern from that what kind of emotional state I was in or where I was at. It's the album cuts that always give you that insight, and it's the same on this record."
Adkins' current single, "Watered Down," was written by Shane McAnally, Matt Jenkins and Old Dominion's Trevor Rosen -- but it certainly could have come straight from Adkins; lines include "I don't go all in, but I'll take the gamble / And I don't burn both ends of the candle anymore / I take the corners slower and steady / This chip on my shoulder, it ain't so heavy anymore." The tune is, by Adkins' own admission, autobiographical, and it's his favorite song he's ever recorded.
"It more closely reflects where I am in my life and my career -- emotionally, just the state of mind that I'm in, it's perfect," Adkins shares. "I'm really happy that it ended up being the single. Usually, songs like that, the ones that are the most personal to me, usually don't end up being a single, so this is one of those exceptions."
"Watered Down" ends with the lines "Those old ghosts still chase me / But it feels like they're losing ground / Yeah, I'm still crazy / But now I'm just a little watered down." They're words that Adkins says ring true, although he sort of wishes they didn't.
"I still smoke, dip, eat stuff that's not good for me, talk ugly -- but I try to temper most of that stuff," Adkins admits. "You get to the point in your life -- it reminds me of that old Waylon [Jennings] song, "You Ain't Living Long Like This." I've pretty much got to calm the f--k down."
It's the album cuts that always give you that insight ...
What isn't included on Something's Going On is any songs that Adkins wrote himself. Although he's proven his abilities as a songwriter -- Adkins penned some of his earlier hits, such as "There's a Girl in Texas" and "The Rest of Mine" -- he found that, this time around, others could articulate what he wanted to say in a way that he couldn't.
"I wrote a few things, but it's always harder for the songs I write to make it on there, because I'm so critical of them," Adkins explains. "These guys around town, they know me; they know what I want to say. So, they know I'm looking for new stuff, and they write stuff and just point it straight at me ...
"It was the best stuff I could find that was cool, grooving and lyrically said what I wanted to say," he adds. "And even if it wasn't exactly lyrically profound, I wanted it to have some cool tracks."
Adkins waited almost four years between releasing Love Will ... and Something's Going On, an eternity in the music business. When asked if he ever considered quitting, especially in the last few years, the Louisiana native is candid: "Absolutely."
"There's still times," he concedes. "Everybody has those days, no matter what your job is, you just don't feel like doing it today ... But fortunately, what I do for a living is kind of like the days that I spent playing football: You might not think you're 100 percent, but then that adrenaline kicks in, and you forget about all that stuff.
"And, fortunately for me, I'm not the only one that's responsible for bringing the energy," Adkins continues. "Even if you're not feeling it, you go out onstage, and it starts pouring over you from the audience, and you get caught up in it, and you go on and do your thing."
Happiness is not a state of being; it's just a fleeting thing that comes and stays a little while, and then it's gone.
It's his loyal fans that Adkins says keep propelling him forward, much as they have for over 20 years.
"I've been very fortunate that I've had a loyal fan base, who continue to buy tickets and records, and they want to hear me do my thing, and they want to watch us do it live. I think that, hopefully, one of the reasons is that we don't ever phone it in," he says. "I remember Charlie [Daniels] told me one time -- we were doing a show together, and we were doing a big state fair somewhere, and it wasn't sold out; of course, I was opening for Charlie. He goes, 'Son, we sing to the full seats; we don't sing to the empty ones. Just go out onstage every night, and you sing to the full seats.'
"I never forgot that, and I live by that," Adkins adds. "We try to go out and put a boot in their a-- every night."
It's no secret that Adkins has weathered his fair share of problems, drama and heartache; perhaps he's even earned the right to be a little jaded. Instead, he keeps soldiering on, never looking back.
"Happiness is not a state of being; it's just a fleeting thing that comes and stays a little while, and then it's gone," Adkins muses. "Sometimes I can stay content for a period of time, but I'm not one of those giddy-a-- people. It's just not my thing; it's not my style. I don't walk in and brighten a room. Hopefully I'll walk in and get some attention, but it's not because I'm the life of the party."
Adkins might eschew the notion of being "a happy person," but if he's feeling content, he's most likely on his property, located about an hour outside of Nashville.
"My hands are all banged up and cut up because that's what I do all the time: I'm out there working, and it's cathartic and therapeutic, and I just love it," Adkins tells The Boot. "The thing about it is, it gives me tangible results at the end of the day, whereas this job here -- I'll come to town, I'll do interviews all day or I'll go do a show or whatever, and you get to the end of the day, and there's nothing that you can look at and go, 'I did a good job today.' There's nothing there, so that's working with my hands gives me; at the end of the day, I can see the tangible results. That's why I'm stinking and dirty."
I could quit today and never work another day and no one would ever see me, and I'd be all right. And so, that's success.
In addition to his success in music, Adkins also has found a successful career as an actor, appearing in such films as The Lincoln Lawyer and Deepwater Horizon. Is there anything else he'd like to accomplish -- maybe a few more awards, a blockbuster movie, another platinum-selling album? Adkins says he's already accomplished more than he ever thought possible.
"I could quit today and never work another day and no one would ever see me, and I'd be all right," he says. "And so, that's success. When you just get to do what you want to do, that's success ...
"I've had a great run. I'm in a great position. I get to make decisions about what I'm going to do next based on the answer to a question that I asked myself: Will that be fun to do? Will I have fun doing that? Is that something I'm interested in doing? Those kind of questions," Adkins continues. "It has nothing to do with money or anything like that. It's just, will that be fun, and will that be cool, and will I like doing that? If the answer's yes, I'll do it."
New Country, Americana, Alt-Country, Bluegrass and Folk Albums Coming in 2017
Unforgettable Trace Adkins Moments