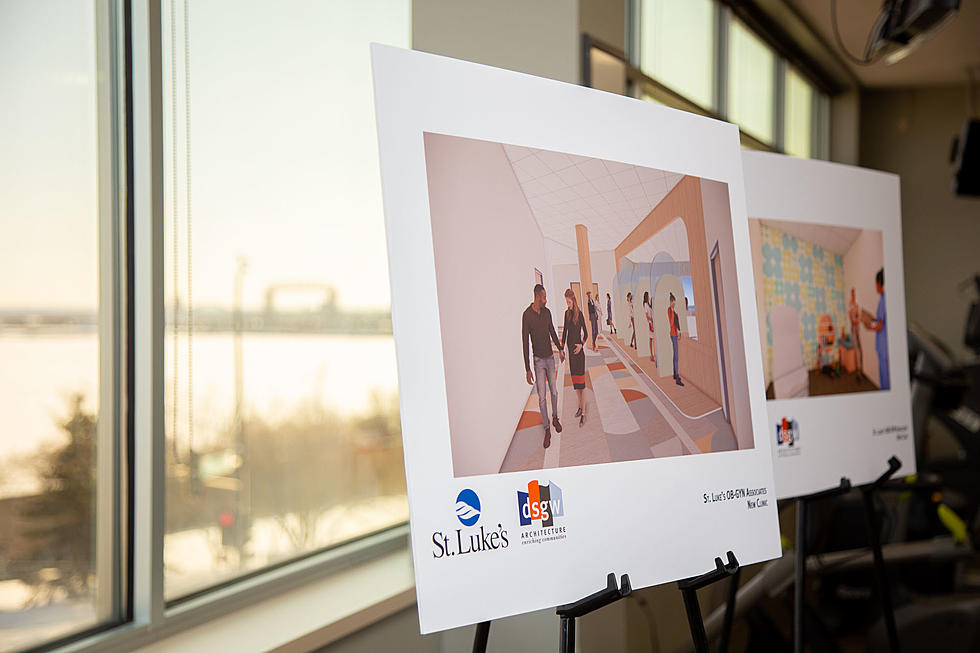 St. Luke's Plans New $4.5 Million OB-GYN Facility In Duluth
St. Luke's provided image
One of Duluth's two major medical facilities has announced their plans for a major investment in women's health care. St. Luke's unveiled designs for their Obstetrics and Gynecology Associates division to move to a new location with significant improvements.
The plans have St. Luke's Obstetrics and Gynecology Associates moving one building over - from the lower level of the Northland Medical Center to the third floor of St. Luke's Lakeview Building.  The new $4.5 million clinic will bring significant improvements to operations.
One of the most-noticeable changes will be the physical space.  According to St. Luke's Co-President CEO and CMO Dr. Nick Van Deelen:
"The project will double the size of the clinic to nearly 16,000 square feet, and greatly enhance the patient experience."
Recently, St. Luke's held a reception to present their plans to the general public.
In addition to the larger physical size of the clinic, the facility will also bring a wide variety of other improvements for patients.  According to the details shared by St. Luke's, here are some of the aesthetic and medical changes that will bring a more-positive patient experience:
The new clinic will have views that overlook Lake Superior
There will be a larger lab for diagnostics
The number of exam rooms in the clinic will increase from the current 15 to 24
Each of the exam rooms will be larger in space
The new clinic facility will include space for breastfeeding pods
A designated non-stress testing room is part of the plan
Officials with St. Luke's are excited about the move and the new facility.  Lori Swanson - St. Luke's Director of Women's and Children's Services - shared:
"We're beyond excited to be modernizing our clinic and providing patients with more comfort, privacy, and efficiency.  Not only will it offer patients a great experience, it will allow us to create more access for our patients to get the services they want.  We couldn't ask for a better space for the new clinic."
Timeline for the construction has ground being broken and work starting this spring.  The actual clinic will open in its new space in January 2023.
10 Signs You're in The Twin Ports
11 Times The Twin Ports Got A Shout-Out On Television
KEEP READING: See 25 natural ways to boost your immune system