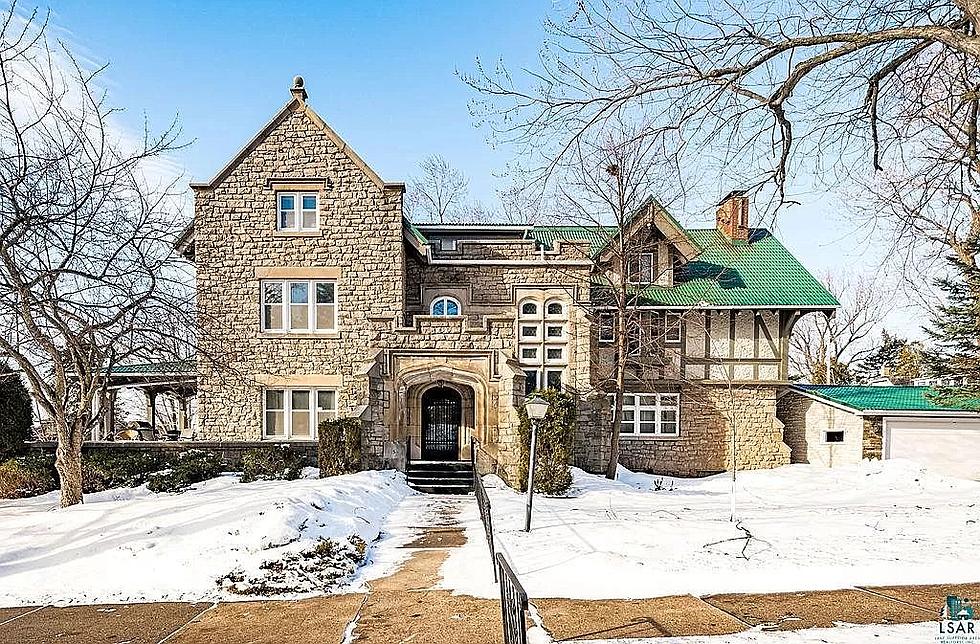 Sold! The Historic Cutler Mansion in Duluth Originally Listed For $849,900
Duluth's Cutler Mansion / Zillow.com
Built in 1912, the Cutler Mansion is one the most recognizable houses in the Duluth. It features a limestone facade and sits on a nice corner lot. It's not often that a piece of history is available to purchase, but this property hit the market in April, 2022, for $849,000.
What's particularly unique and intriguing about this listing is that while it was built as a single-family mansion, it has since been made into a four-plex so the new owner could keep it that way and generate revenue. They could also revert it back to single-family home as originally intended or go in a whole new direction with the property.
I think you'll enjoy taking a look through the Cutler Mansion and seeing what the new owners ultimately paid for the home. They closed on the property in August.
Sold! The Historic Cutler Mansion in Duluth Originally Listed For $849,900
Featuring a limestone facade and a castle-like appearance, one of the most recognizable homes in Duluth is the Cuter Mansion. In April, 2022, this historic home went on the market for just under $1 million.
Dwight Cutler, a building materials mogul, obviously spared no expense when commissioning the construction of this residence, which was built in 1912. The exterior stone was quarried from Lake Erie's Kelly Island and the woodwork throughout was skillfully crafted.
The mansion features 8,484 square feet including 12 bedrooms and 7 baths on a large, treed, corner lot. It also provides 4 attached garage spaces.
What's interesting about this listing is that it could be a revenue generator for the new owner. It was built as a single-family residence, but has since been converted into a four-plex. Each unit of the four-plex features large living spaces, spacious bedrooms, full kitchens, and private laundries. It also provides gorgeous common spaces.
While the home was being used as a rental, but it could also be used as a multigenerational home, possibly a bed and breakfast, or even converted back into a single-family home.
There are a lot of great options for the new owner, who closed on the home on 8/26/2022. The Cutler Mansion was originally listed for $849,900, but ultimately sold for less.
Take a look through this historic property, the sale price is shown on the last picture.
Sold! Iconic Mansion-Like Duluth Home Originally Listed for $999,500
The Congdon area of Duluth is full of rich history and iconic homes that are a reminder of Northland's past. While it's always fun to drive through the area and look at these mansion-like homes, it's not often they hit the market.
However, one such home did become available early 2022, originally hitting the market for with a listing price of $999,500.
This brick Congdon Estate, located at 2627 E. 7th Street in Duluth, was built in 1917 and totals 6,645 square feet. It features 5 bedroom and 5 baths.
Once you walk onto the restored concrete front porch and into the home, you'll love the hardwood floors, natural woodwork, oversized fireplace that sits in an immense living room, and the Master Suite with its own gas fireplace and a brick sun porch.
There's also a sunroom, formal dining room and an amazing kitchen which comes complete with commercial appliances and a full, original butler pantry/room.
The list of unique and gorgeous features goes on and on. Did I mention the home sits on a nice, big double lot complete with 3-car garage?
I'm sure the new owners are loving it now! The new owners closed on the home on June 17, 2022 and they got a good deal when compared to the original listing price.
Care to guess what the sale price was? Take a look through the home, the sale price is shown on the last picture. Hint: They got a nice deal.