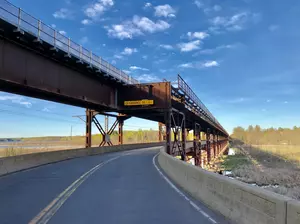 Oliver Bridge Between Minnesota + Wisconsin To Remain Closed This Week
Nick Cooper - TSM Duluth
Recently, the Minnesota Department of Transportation announced a temporary closure of the Oliver Bridge, located over the St. Louis River at the junction of Minnesota Hwy 39 and Wisconsin Hwy 105.
This two-day closure, which was scheduled on Thursday, September 14, and Friday, September 15, from 8:30 a.m. to 4:30 p.m., was necessary in order to complete a scheduled inspection. The inspections are required in order to gauge any issues that can be addressed now.
However, this week MnDOT announced, on behalf of the CN Railway, that the closure of the Oliver Bridge will continue through this week, impacting travel throughout the area.
According to MnDOT, the bridge close be closed from 8:30 a.m. to 4:30 p.m. through Friday, September 22. The bridge will close at 8:30 a.m. each day, and all equipment will be removed from the bridge and re-opened to traffic by 4:30 p.m. each day.
This daily closure is necessary to allow workers to complete bridge work. Changeable message signs are in place to let bridge users know about these daytime closures and those signs will remain in place until the bridge work is complete.
As is always the case for road closures and related projects throughout the Northland, motorists are reminded to drive with caution and slow down in work zones where workers are present. Plan on taking an alternate route as long as the project is taking place and please be patient through any posted detours.
All construction activities and traffic impacts are weather and schedule-permitting and subject to change whenever the weather or other factors prevent workers from safely continuing the project.
Offbeat adventures: Travel to the coolest hidden wonders in every U.S. state
Fuel your offbeat travel dreams.
Stacker
found the coolest hidden wonders in all 50 U.S. states (plus D.C.) using data from
Atlas Obscura
.
[WARNING: Under no circumstances should you enter private or abandoned property. By doing so you risk bodily harm and/or prosecution for trespassing.]
LOOK: The longest highways in America