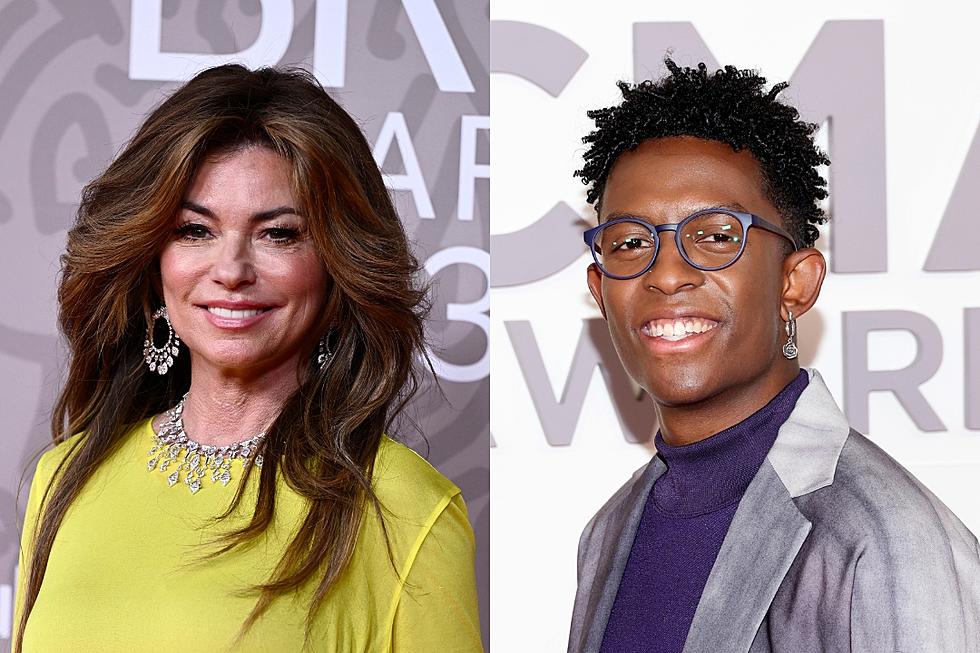 Shania Twain Taps Breland for Feel-Good 'Inhale/Exhale AIR' Duet [Listen]
Gareth Cattermole/Jason Kempin, Getty Images
Shania Twain has released the Royal Edition deluxe version of her latest album, Queen of Me. The expansive 18-track collection features four new songs, including a duet version of "Inhale/Exhale AIR" with Breland.
The breezy tune opens with Twain inviting listeners to slow down and enjoy the air that surrounds them.
"Breathe it, let the top down, drive around / Feel it on your face, eh eh / Blowing up balloons on Sunday afternoons / And watch them fly away," she sings in the opening verse before the tempo kicks up a notch in the chorus.
Breland then arrives in the second verse with his smooth signature vocals to paint a vivid picture of feel-good, let-down-your-hair moments.
"Take a 747 up in thе sky / Till it be somewhere a little paradise / You can end up on a roof of your local bar / Cover band, do your dance, playin' air guitar / You can live it all out if you feel the need / Crack a beer, shout a cheer for your favorite team / Let your hair down, get your wild out / Everybody needs a night like this," he sings invitingly in the picturesque verse.
Of his first-ever collaboration with Twain, Breland says, "I am a huge Shania Twain fan and have always dreamt of singing on a song with her. The first Super Bowl I can remember watching was the one that she played halftime, and once I got into country music as an artist, she was my number one dream collab.
"What she represents for country music and beyond is so important, and she's opened up doors for artists like me," he adds. "It was a no-brainer for me to be on this song and I'm looking forward to playing some shows with her this summer."
Breland is set to open for Twain on select dates of her Queen of Me Tour, which kicks off Friday (April 28) in Spokane, Wash. The global trek will hit 48 cities in the U.S. and Europe, with Kelsea Ballerini, Mickey Guyton, Lindsay Ell, Hailey Whitters, Robyn Ottolini and Priscilla Block joining as openers on various dates, as well.
For the full tour schedule, visit Twain's website.
Top 25 Shania Twain Songs — Her Biggest Hits and Best Deep Cuts
Shania Twain
's best songs changed country music in ways never imagined before 1995. The superstar's career as a charting recording artist lasted less than a decade and included few accolades (including just one CMA Award) relative to her commercial success, but few female artists under 40 will fail to name her as one of three major reasons they chase this country music dream for a living. Perhaps only Dolly Parton is listed more frequently as an influence.
This list of Shania Twain's best songs considers commercial success, cultural importance, legacy and song quality. Scroll through to see which of her songs is No. 1 and click on any link to listen.