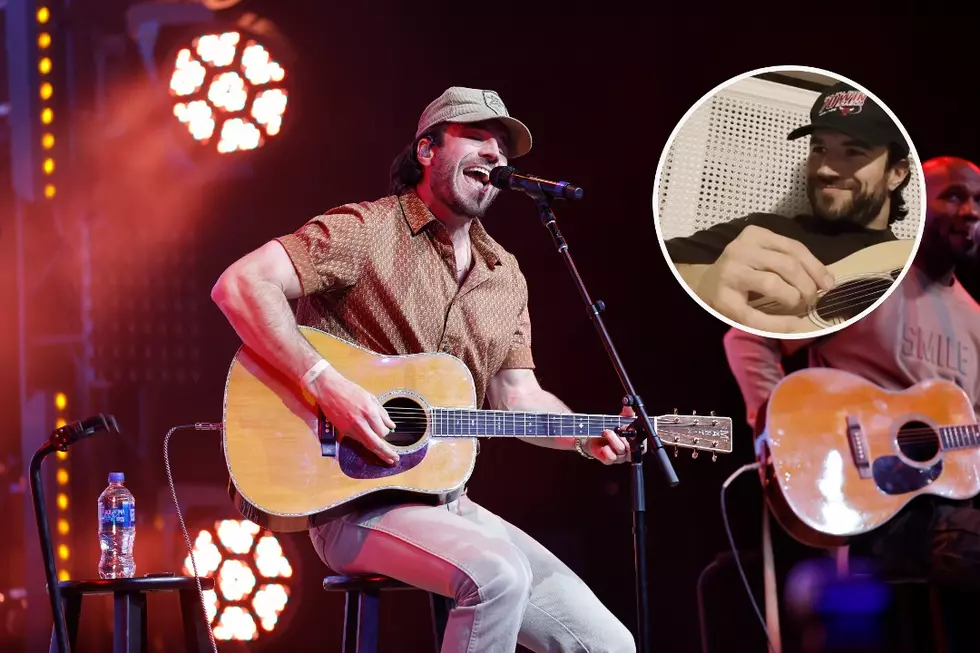 Sam Hunt's Daughter Lucy Makes Unexpected Cameo: 'Dada!'
Instagram / Jason Kempin, Getty Images
Sam Hunt doesn't share too many videos of his life as a husband and father, but this one should hold us over for awhile.
In a new post on Instagram, we only see Hunt, who's lightly picking on a guitar. But we hear his wife, Hannah Lee Fowler, reading a story to the couple's daughter Lucy, who was born last May. From the sound of it, the book is I'll Love You Forever by Owen Hart.
There are a few audible noises from Lucy behind the camera, but when Hunt looks at her and smiles, she makes her voice heard.
"Dada!" she shouts, with several other babbling renditions.
Although we only see the "House Party" singer throughout the clip, his face says it all — he is one proud papa who is surely wrapped around that little girl's finger.
"'I am in love and out of it I will not go.' Steve Earle. Valentine's Day," he writes in the caption.
It's not Lucy's first 'appearance' on social media. A couple of eagle-eyed fans spotted her in a montage video Hunt posted recapping his Fourth of July celebrations with family. She was about six weeks old at the time and was sleeping peacefully in the arms of one of her family members.
Hunt and his wife have remained private about their new addition. There was no formal announcement regarding Lucy's arrival, but Hunt did mention it at a show in Nashville on June 7, 2022.
"I recently had a baby girl named Lucy Lu," Hunt said at the time. "I think being out here, and in the music business and being out on the road, has sort of hardened my heart. My heart's definitely a lot harder in a lotta ways since I left that small town. It's amazing how that little girl melted that all away overnight a couple of weeks ago."
Lucy was born in late May 2022, shortly after Fowler called off her pending (at the time) divorce from Hunt. She first filed in February 2022, which is when news of her pregnancy was first revealed.
Neither has spoken publicly about the status of their marriage, but it appears the couple reconciled right around the time their daughter arrived. Hunt and Fowler tied the knot in April 2017 after a long on-again, off-again relationship that started in 2008.
The "Water Under the Bridge" artist also shared a rare photo with his wife in January with the caption "Sparrows". In Greek mythology, sparrows are considered a symbol of love.
A Timeline of Sam Hunt's Relationship With Hannah Lee Fowler
Sam Hunt and Hannah Lee Fowler have called it quits after almost five years of marriage.