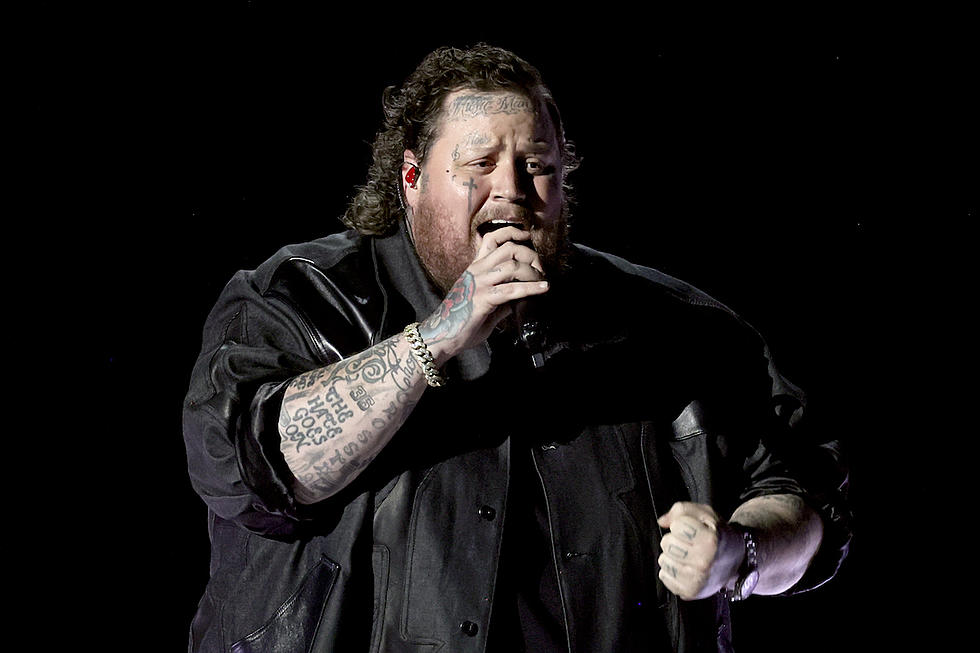 Jelly Roll Drops Full Track List for Debut Country Album 'Whitsitt Chapel'
Theo Wargo, Getty Images
Ahead of the full release of his Whitsitt Chapel album next month, Jelly Roll is sharing the full track list for the 13-song project.
The breakout superstar is a writer on every song on the album, and he enlisted an all-star roster of co-writers from the Nashville songwriting world. Some of the industry's most in-demand writers appear on the track list, including Jesse Frasure, Jessie Jo Dillon, Hillary Lindsey, Hunter Phelps and Zach Crowell.
Jelly also co-wrote with multiple big-name artists for Whitsitt Chapel. Hardy, Miranda Lambert and Ashley McBryde all lent their pens to various cuts on the project, and Brantley Gilbert co-wrote "Behind Bars" — a collaboration that Gilbert also sings on, along with Struggle Jennings.
Whitsitt Chapel also includes plenty of other collaborations. In addition to his team-up with Gilbert and Jennings, Jelly Roll's new album includes the Lainey Wilson duet version of "Save Me" that the pair debuted at the 2023 ACM Awards, as well as a duet with Nashville-based rapper Yelawolf called "Unlive."
Fans have already heard several of the tracks on Whitsitt Chapel, including "Save Me," "She" and his current single "Need a Favor," but there's plenty of brand-new material on this album, too. Jelly Roll has previously said that much of the track list was written over the past two years, when he got inspired for a new direction for the project after watching his teenage daughter Bailee grow her faith and ultimately make the decision to get baptized.
Whitsitt Chapel arrives on June 2. In late July, Jelly will kick off his 2023 Backroad Baptism Tour.
Jelly Roll, Whitsitt Chapel Track List:
1. "Halfway to Hell" (Jason DeFord, Jesse Frasure, Matt Jenkins, Jessie Jo Dillon*)
2. "Church" (Jason DeFord, Michael Hardy, David Garcia**)
3. "The Lost" (Jason DeFord, Jesse Frasure, Miranda Lambert*)
4. "Behind Bars" (with Brantley Gilbert and Struggle Jennings) (Jason DeFord, Brantley Gilbert, Michael Whitworth, Andrew Baylis, Brock Berryhill, Austin Nivarel***)
5. "Nail Me" (Jason DeFord, Kevin Gruft, Austin Nivarel^)
6. "Hold on Me" (Jason DeFord, Hillary Lindsey, Alysa Vanderheym, Michael Whitworth^)
7. "Kill a Man" (Jason DeFord, Riley Thomas, Andrew Baylis, Michael Whitworth^)
8. "Unlive" (with Yelawolf) (Jason DeFord, Ashley McBryde, Andrew Baylis, Zach Crowell, Michael Wayne Atha^)
9. "Save Me" (with Lainey Wilson) (Jason DeFord, David Ray Stevens^^)
10. "She" (Jason DeFord, Austin Nivarel, Kevin "Thrasher" Gruft^^^)
11. "Need a Favor" (Jason DeFord, Austin Nivarel, Joe Ragosta, Rob Ragosta*^)
12. "Dancing With the Devil" (Jason DeFord, Hunter Phelps, Zach Crowell^)
13. "Hungover in a Church Pew" (Jason DeFord, Hunter Phelps, Zach Crowell^)
^Produced by Zach Crowell
*Produced by Zach Crowell and Jesse Frasure
**Produced by Zach Crowell and David Garcia
^^Produced by Zach Crowell and David Ray Stevens
*^Produced by Austin Nivarel
***Produced by Brock Berryhill and Andrew Baylis
^^^Produced by Kevin "Thrasher" Gruft
Check Out Country Music's Greatest Mullets