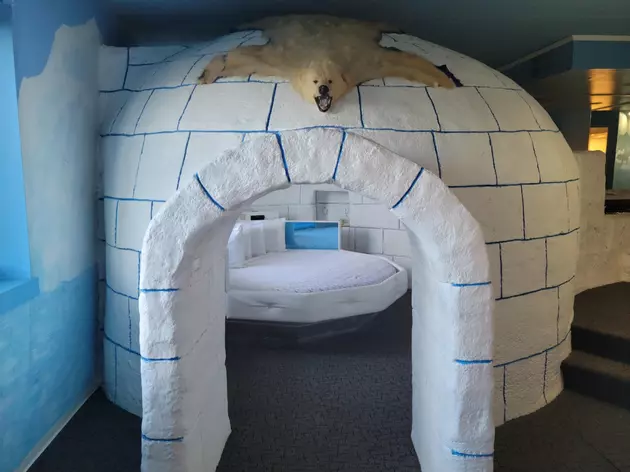 Unique Hotel In Dodgeville, Wisconsin Features Themed Rooms
Igloo Hotel Room- Photo Credit: Joe Danger
For our anniversary, I surprised my wife with a motorcycle trip the House on the Rock, in Spring Green, Wisconsin.  Neither of us had been there before, but before even arriving, something was mildly disappointing.
As eclectic as the House on the Rock is supposed to be, based on pictures of the resort rooms, their hotel looked boring.  Maybe not boring, but plain would be a better word to describe the rooms.  Thankfully within less than twenty minutes away, there was a much less plain lodging option.
Thanks to reels on Instagram, I saw a hotel room that was themed and came to find out they have multiple themed rooms.
For a three-night stay, it was tough to pick just one room, so I opted for a night in one and two nights in another.  The themes range from a Cave, The Northern Lights, Up Up and Away, Medieval, and many others.  For night one, I booked us the Northern Lights room.
In the Northern Lights room, your round bed is actually in an igloo that's within the room.  The igloo was supposed to light up like the Northern Lights, but we found out that LED setup was broken.  It still was neat and had a decent sized hot tub to enjoy.
On nights two and three, we stayed in the Up Up and Away room, which is about a story and a half tall.  You walk in and immediately see a giant mockup of a hot air balloon.  Down just a few stairs and you arrive at the gondola of the balloon where your bed is.  Next to it, is also a nice sized jacuzzi tub.  To our surprise, the hot air balloon bed is actually mostly suspended from the ceiling, so it moves a bit when you move or get in and out of bed.  The LED lights in the balloon worked in this room, giving it a pretty cool vibe.
Pricing for the rooms wasn't bad, at about $200 a night for the weekends and around $160 for a weeknight.  In addition to the unique rooms, they also have an old plane out front of the hotel you can tour.  Full disclosure though, it's incredibly dirty and unmaintained.  The bird feces was too much for me and I only spent about thirty seconds in there for photos.
As far as the themed rooms we stayed in, they are pretty dated, and the Northern Lights room had a heavy odor of Febreze.  If your hotel standards are white glove clean and crisp, skip this place.  If you like to live a little and have some fun instead of boring and plain hotels, it's worth a stay at least for a night.  The hot tub water was incredibly hot, and they worked well in both rooms.  My wife was greatly impressed with the fun vibe of it all and we had a great time.
The hotel is called the Don Q Inn, and it's located in Dodgeville, Wisconsin.  From the Duluth/Superior area, it's only about a five-hour drive and besides the House on the Rock, we found plenty of attractions to keep us busy for the weekend.
Need A Vacation? Check Out This Luxury Lakeshore Rental In Gordon, WI