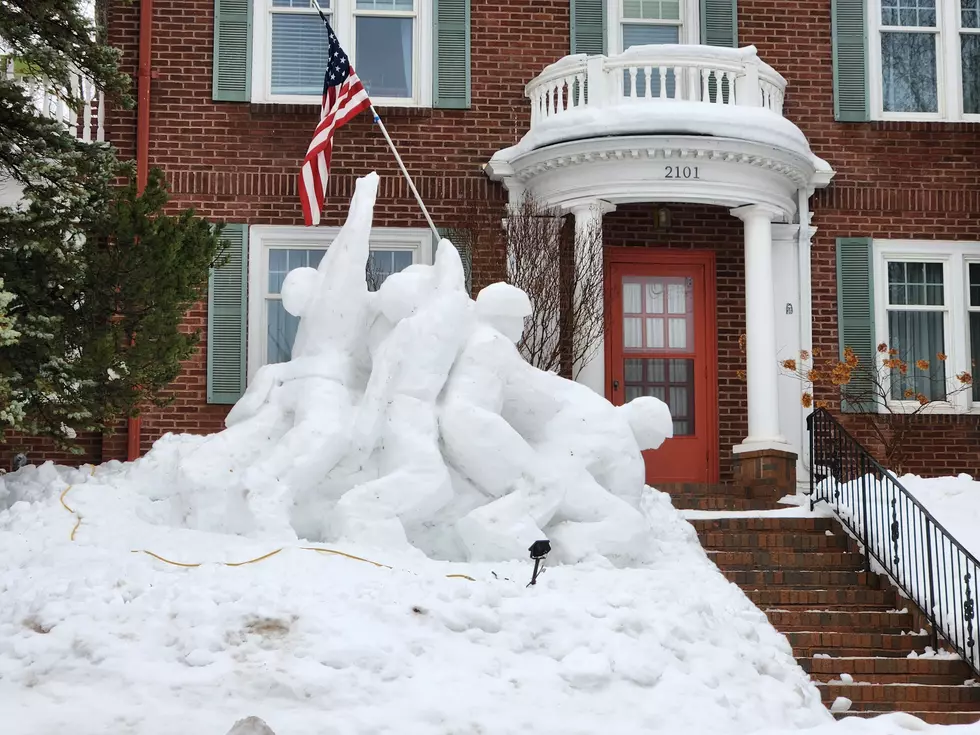 Duluthian Harry Welty Unveils His Latest Winter Snow Sculpture – One With A Message
Photo: Jeanne Ryan/TSM Duluth
It would not truly be winter in Duluth without a new snow sculpture from Harry Welty who lives in a prime location for all to see his latest artwork. His home is on the corner of 21st Avenue East and 4th Street, so you need to look fast if you are driving up the hill, or turn down 4th street to get a better look.
Welty says every year it becomes more and more of a challenge to create his sculptures and with the rain today it is sure to turn these soldiers into a giant block of ice as temperatures drop throughout the night. Most people will recognize his latest design from the historical photograph of Marines planting the U.S. flag on Iwo Jima during World War II.
Welty is not one to shy away from his political views and decided the sculpture this year is meant to bring about unity. He said to FOX 21:
I am as people might know, focused on politics and, in recent years America's been pretty divided. And you know, we're a pretty doggone good country, and we've got good memories of bad times, and getting through them together, and I just thought this would be a nice thing to show, as a reminder that we are a united people, and we oughta' stay that way.
In order to make this latest sculpture Welty had to pile the snow 14 feet above the sidewalk by bringing snow from the backyard to the front yard scoop by scoop over a period of 5 days. What a massive effort that must have been just to get enough snow, while building the actual sculpture only took him 3 days to make. See photos of some of his past sculptures here.
12 Iconic Landmarks In The Twin Ports
Twin Ports Roads To Avoid In The Winter