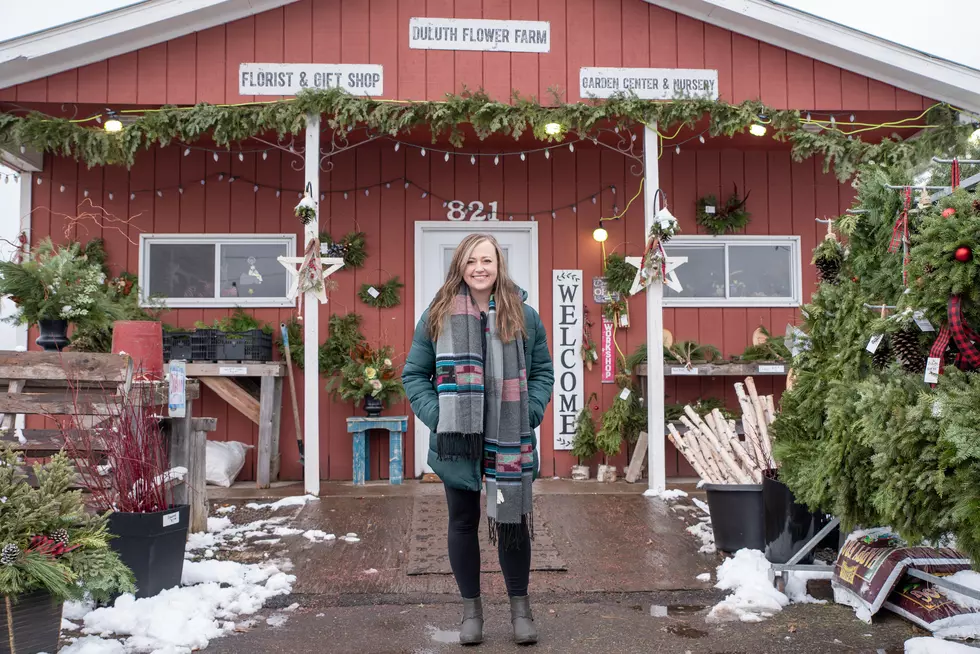 Lauren's Favorite Holiday Finds at Duluth Flower Farm
Townsquare Media
You may have heard that Duluth has been named one of the nation's most charming Christmas towns, and I couldn't help but think of that when I stopped by Duluth Flower Farm in Superior.
Not only do they have adorable wreaths and all the festive greenery you could ever want — think garland, potted arrangements, floral and evergreen centerpieces, Christmas trees, and more — but they also have an expanded gift section featuring local vendors. So many high-quality options all in one space, and you can shop to your heart's content knowing that you are supporting local residents.
Here are some of my favorite finds:
Candles: Everyone loves candles, and at Duluth Flower Farm, they have quirky scents that are perfect for the winter season, including buffalo plaid and the Florida Keys. They also have potpourri spray with similar scents, including jasmine and the North Shore! ($10)
Sand Ornaments: If you're looking for a gift or an ornament for your own tree that is truly unique to Duluth, check out these sand ornaments. They come in three shapes: Minnesota, Wisconsin, and Lake Superior and are locally made. ($8)
Earrings: Duluth Flower Farm has a ton of homemade jewelry in their gift shop, including these one-of-a-kind earrings made out of polymer clay. They come in fun shapes and sizes, like the charcuterie board earrings pictured. There is an option for everyone and every option is fun and unique. ($20 to $25)
Gnomes: These gnomes are homemade and handcrafted in small batches in Duluth. Every gnome is different from the gnome holding a margarita (pictured) to a gnome with braids. They can be used as home or garden decor. ($24.95)
Food Selection: Duluth Flower Farm has several locally owned food products made right here in Duluth. Options include spicy mustard, jelly, jam, wild rice, and maple syrup made on a farm in Duluth. These would make a great stocking stuffer for the chef in your life! (Prices vary).
Soaps: This is a bestseller for Duluth Flower Farm and if you smell one, you will know why! The soap comes in a ton of different scents including pumpkin pretzel latte, sandalwood and amber, and apple peel and acorn. The soaps are made in Duluth. ($7)
As you're planning your holiday shopping, be sure to include Duluth Flower Farm at 821 Hammond Ave. in Superior, across the street from Dan's Feed Bin. It's open daily from 9 a.m. to 6 p.m. I'm sure you'll find as many great gifts and decor as I did!
A Virtual Tour of the Holiday Cheer at Duluth Flower Farm
Lauren Wells shows you all the greenery and gifts you can find for the holiday season at Duluth Flower Farm — all from local designers and vendors. They have fresh greens, wreaths, garlands, potted arrangements, floral and evergreen centerpieces, Christmas trees, and more at their shop at 821 Hammond Ave. in Superior.