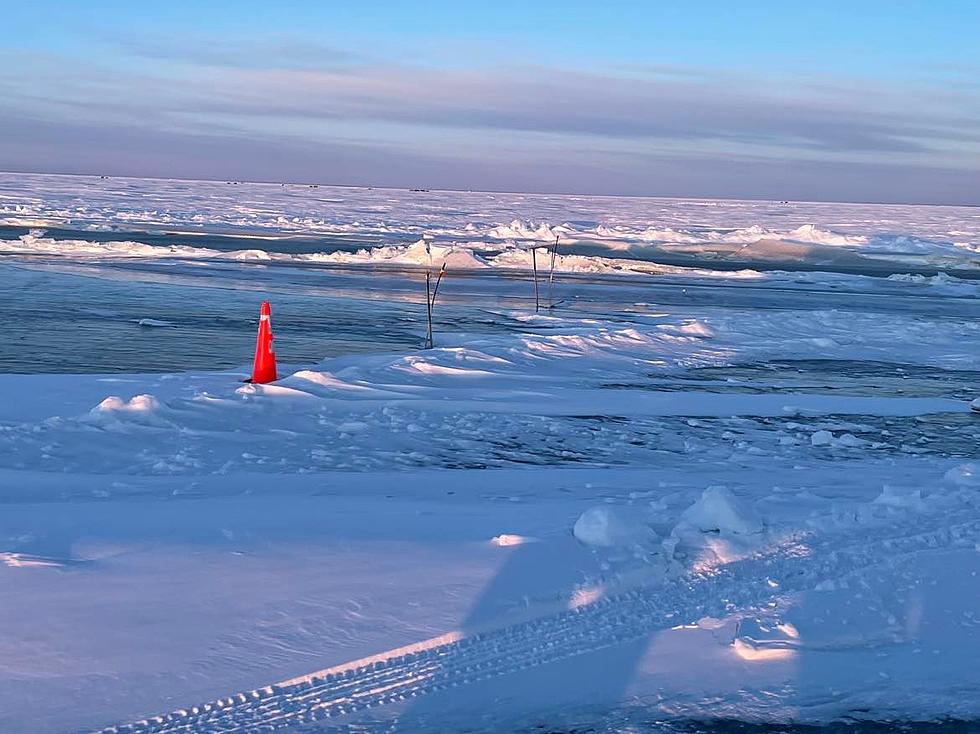 February Lake Of The Woods Fishing Trip Was Sketchy On The Ice
Ken Hayes
A group of us planned out a long weekend trip to Lake Of The Woods this last fall. We were able to finally land on a date for the third weekend of February. Then, the worst year for making ice in Minnesota happened. Still, Lake Of The Woods is far enough north that we shouldn't have any problems, right?
We've heard stories of trucks going through the ice up there this year, but that was back in January. 
We called ahead some friends who live up there and they said we would be fine. No problem. We got to the resort the first night and they told us there would be a caravan out to the ice houses in the morning because there were a "few cracks" in the ice.
We found that shortly after crossing the land bridge, we also had to cross over a wooden bridge over a large crack that had formed.
On the first day, we set up at our fish house which was only about a mile from shore. Normally we would be out 10 miles or more, based on previous trips. But, after talking to the guides, they told us they were forced to move the houses closer to shore because the ice road was in bad shape.
Near our house on the first day was a section that had been staked off with caution cones because there had been a hole there. I wasn't too concerned. There were about 2 feet of ice in our hole. That's not much for this time of year, but still enough for me to feel more than comfortable. That is until we experienced what I can best describe as an 'icequake.'
I've had ice shift before on me. I've even witnessed a crack shoot right through my feet while ice fishing. But I never experienced something as unsettling as this.
Out of nowhere, a rumble started. It felt like an earthquake. The ice was shaking, there were loud cracks, and the thing I'd never experienced before was the deep rumble noise that went with it. It was so loud that we wouldn't have been able to hear each other talking. That's how crazy it was.
One of the guys in the house darted out the door. The rest of us just stared at each other wondering how long this was going to last and if our house was about to plunge through. I honestly thought what we heard might have been the pickup truck parked outside breaking through the ice.
We went outside to investigate and the truck was still there. Everyone on our road had left their fish houses to survey what the heck was going on. We talked with the guide when he came and checked in and he mentioned that everyone else had also felt it.
The next day we went a little further out, following the caution areas. There were cones and stakes set up everywhere. We saw the old ice road and how bad of shape it really was. Apparently, a crack had opened up just a couple of days ago and there was open water wide enough that there were actually white caps on it. It froze again in the last couple of days, but it still wasn't thick enough to go near.
The next question always is, "how was the fishing?" The last few times I've been to Lake Of The Woods it hasn't been fantastic. Not like years ago. Is it being overfished? We also were much closer to shore than I'd ever fished before. We didn't get skunked either day, but we also only brought home 7 keepers from two days on the ice. We caught a lot of little dink saugers, but not any walleyes.
Either way, we had a fun time as always. Fortunately, the resort did a good job of keeping us safe and still getting us out there.
States with the most registered hunters
Stacker
analyzed data from the U.S. Fish and Wildlife Service to determine which states have the most registered hunters. Read on to see how your state ranks on Stacker's list.