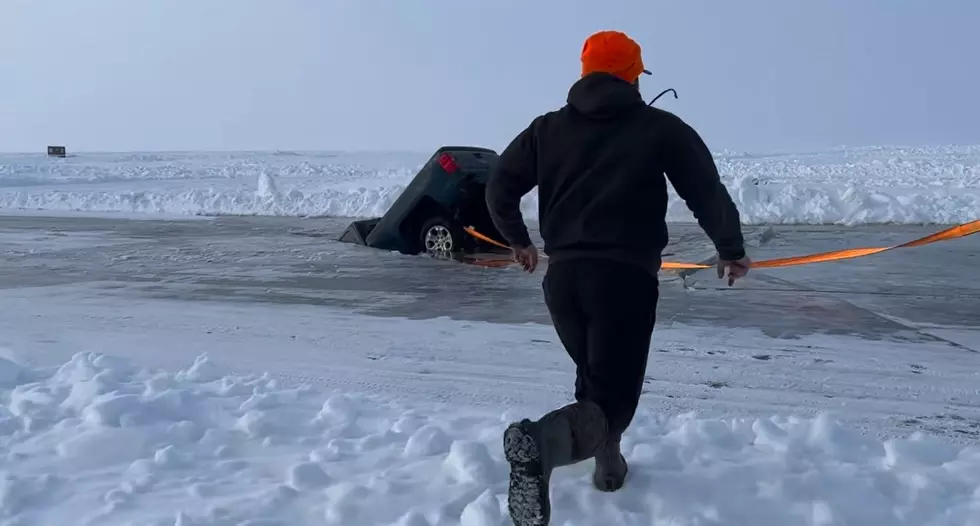 Minnesota Man Shares Dramatic Video Of Truck Falling Through Ice at Lake Of The Woods
Mike Hamann Facebook
It seems every winter there are several rounds of warnings across the Northland regarding safety when it comes to going out onto a seemingly frozen body of water.
Then every winter there are videos of vehicles or snowmobiles becoming partially submerged due to the ice not being able to withstand their weight. It can be very scary and very expensive, although the most important thing is that nobody gets hurt when this occurs.
Recently a video went viral on social media involving an incident that occurred in the Lake of the Woods area. One person who shared the video was Mike Hamann who, according to his Facebook profile, lives in Aurora, Minnesota.
While it's not clear exactly which lake this occurred on, one thing that is clear is that by the time this video gets rolling, they had already exhausted all efforts to stop the truck from sinking to the bottom of the lake.
It appears they had tried to use straps and either another vehicle or snowmobile to try and stop what ultimately became the inevitable ending. At least it seems as though nobody was left in the truck when it was all said and done.
I'm not making light of the situation, but in the waning moments of the video below, I couldn't help but hear the theme from the movie 'Titanic' playing in my head.
As a reminder, the Minnesota Department of Natural Resources reminds everyone to use caution and assume no ice is 100% at any time.
The following ice thickness guidelines are also important to know. Keep in mind that this is for new, clear ice only.
UNDER 4" Stay off
4" Ice fishing or other activities on foot
5" - 7" Snowmobile or small ATV
7" – 8" Side-by-side ATV
9" – 10" Small car or SUV
11" -12" Medium SUV or small truck
13" Medium truck
16" -17" Heavy-duty truck
20"+ Heavy-duty truck with wheelhouse shelter
The DNR's recommendations are based on average equipment weight and assume solid, clear ice. They add that you are responsible for knowing the weight of your vehicle, equipment, and body.
Also, remember that many factors other than thickness affect ice strength, including air temperature, wind, snow, streams, narrow areas or bottlenecks, sun, shade, fish communities, plant decay, and more. When a layer of snow melts and refreezes on top of lake ice, it creates white ice, only about half as strong as new, clear ice. Double the above thickness guidelines when traveling on white ice.
LOOK: The most extreme temperatures in the history of every state
Stacker
consulted 2021 data from the
NOAA's State Climate Extremes Committee (SCEC)
to illustrate the hottest and coldest temperatures ever recorded in each state. Each slide also reveals the all-time highest 24-hour precipitation record and all-time highest 24-hour snowfall.
Keep reading to find out individual state records in alphabetical order.
The 100 Best Places to Live in the Midwest