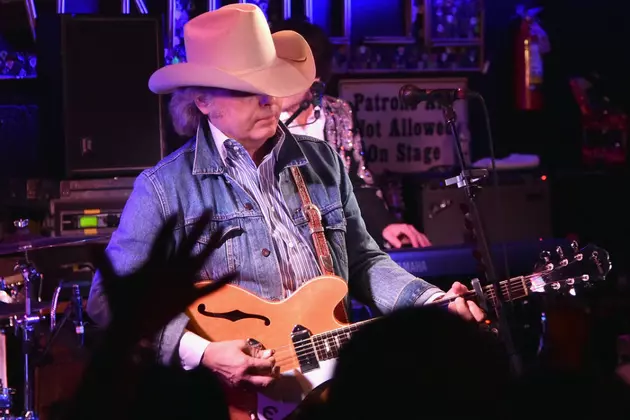 Dwight Yoakam Announces Exclusive SiriusXM Channel Launch
Mike Coppola, Getty Images
Dwight Yoakam has announced the launch of an exclusive SiriusXM radio channel, Dwight Yoakam and the Bakersfield Beat. The channel will feature Yoakam's music as well as that of his friends and contemporaries.
Playing off the motto "Where Country Went Mod," Yoakam's SiriusXM channel will showcase California country music icons such as Buck Owens, Wynn Stewart, Tommy Collins, the Byrds, the Flying Burrito Brothers, Eagles, the Blasters, Lucinda Williams, Ricky Nelson, Emmylou Harris, Linda Ronstadt and more.
"Dwight's musical career was so heavily influenced by the Bakersfield sound and he returned the compliment by producing decades of critically acclaimed music," Scott Greenstein, president and chief content officer of SiriusXM says. "A full-time channel of Dwight Yoakam and the Bakersfield Beat added to our already powerful and diverse country music lineup is a potent addition SiriusXM country music fans will love."
Yoakam has dubbed one particular segment of his channel "That Town South of Bakersfield: From Cow Punks to Now Punks." It will be devoted to the country scene in and around Los Angeles, and will feature more diverse bands, including X, Lone Justice and Los Lobos.
The critically acclaimed country singer, who has charted more than 30 singles on the Billboard Hot Country Songs chart, is not the first artist to helm his own channel at SiriusXM. Willie Nelson, Garth Brooks and Kenny Chesney also have their own specially curated programs.
Dwight Yoakam and the Bakersfield Beat will take over SiriusXM's Prime Country channel (Channel 58) for a special preview starting on Feb. 23 at 5PM ET through Feb. 26 at 3AM ET.