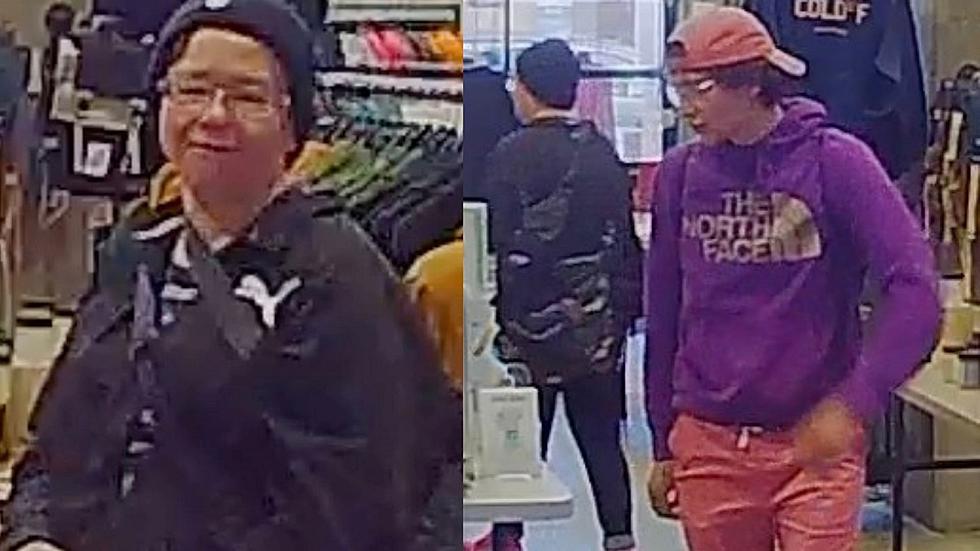 Duluth's Flagship Clothing Store Needs Help Identifying Two Shoplifters
Flagship Facebook
Flagship, located at 345 S Lake Avenue in Duluth's Canal Park, is a clothing store that prides itself on showcasing local artists and designers' work. As their website states, "Inspired by the Northland and Twin Ports, we aim to foster our community by partnering with local businesses and supporting environmental causes in our area. Our apparel is screen-printed using traditional methods."
It's a shopping experience that is unique to the Duluth area, with brands that include Brixton, Coalatree, Deso, Great Lakes Co., Katin USA, Mizu, Poler, and Topo Designs. It's a shopping.
On May 4, however, the Flagship Team had two individuals come into the store and proceed to steal from them. The next day, the official Flagship Facebook page shared the news, along with security photos of the individuals, with the hope of identifying who they are.
Duluth! We're looking for two individuals who stole items from our store yesterday. Situations like this are disappointing, and we'd love our stuff back. If you have any leads, please contact us or the Duluth Police Department. Thank you. -The Flagship Team
Below are the four security camera photos that were shared by Flagship.
As is usually the case in situations such as this, the more people who see the photographs, the better chance there is to get them identified.
Hopefully, they will get identified and the Duluth Police Department can proceed accordingly.
Even if Flagship doesn't get its merchandise back, the hope is that going public with the case also dissuades others from stealing from stores in the area.
If you know who either one of the people in question are, you can reach out to Flagship directly or through their Facebook page.
QUIZ: Can you identify 50 famous companies by their logos?
How well do you know the logos of 50 of the world's most famous companies? Keep scrolling to see if you can guess which icon belongs to which brand.
50 Famous Brands That No Longer Exist