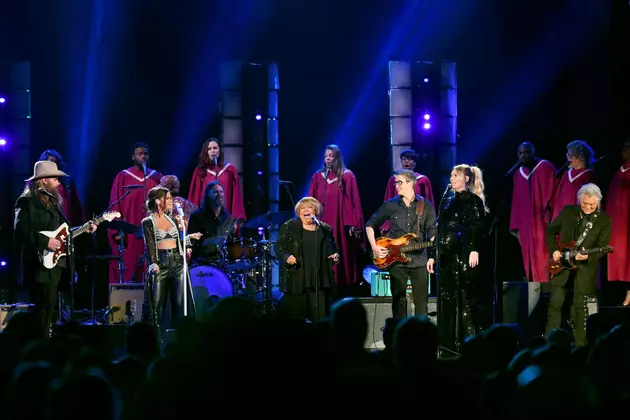 Chris Stapleton, Maren Morris, Mavis Staples Team for 'Friendship,' 'I'll Take You There' at 2018 CMA Awards
Michael Loccisano, Getty Images
Chris Stapleton, Maren Morris, Marty Stuart, and R&B and gospel icon Mavis Staples teamed up for a once-in-a-lifetime collaboration at the 2018 CMA Awards on Wednesday night (Nov. 14). Together, the artists (as well as a horn section, gospel choir and Morgane Stapleton) performed Stapleton's song "Friendship" and the Staple Singers' "I'll Take You There."
The former song was stripped-down and smoldering, and allowed vocalists to take center stage. Morris especially sounded great, staying in her lower register and showing off why she's one of country's rising stars, while Staples' contributions added richness and resonance to the song. Stuart, meanwhile, added his usually intricate guitar accompaniment in the background.
For an extended jam on "I'll Take You There"--which Staples originally performed with the Staple Singers--the 79-year-old soul icon took lead vocals and vamped in her inimitable way, as the gospel choir behind her added lively harmonies and Morgane Stapleton added vocal punctuations as well.
The flourishes on this song found Stapleton playing some soul-funky guitar and Morris also contributing harmonies. As the song progressed, Staples and Stapleton traded verses, and the former started getting into her vocal groove on the familiar song. In fact, the song ended with Staples saying "Mercy!" firmly.
Stapleton is nominated for a slew of trophies at the 2018 CMA Awards, including Entertainer of the Year, Album of the Year, Male Vocalist of the Year, Song of the Year and Single of the Year. Morris, meanwhile, is nominated for Female Vocalist of the Year and Musical Event of the Year, for her song "Dear Hate," which features Vince Gill.
See All the Looks From the 2018 CMA Awards Red Carpet