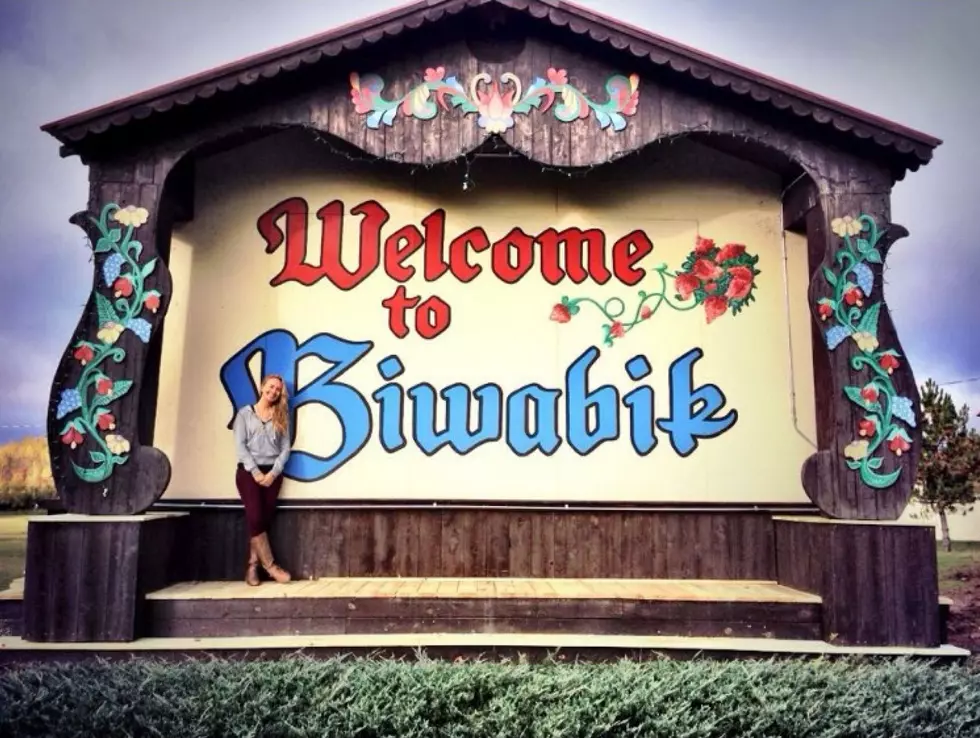 Biwabik Native Turned Nashville Songwriter Pens #1 Country Song
Courtesy: Emily Shackelton
The "proud Iron Ranger" was kind enough to chat with me (for 45 minutes, no less) about her decade-long career in country music, her Connie Britton connection and of course, her first number one.
Shackelton grew up in Biwabick, Minnesota. She had a normal Iron Range upbringing with her "close-knit" family and was always surrounded by music, singing around the house to her parent's old records.
Near the end of her senior year in high school and planning on attending a state college, she visited the renowned Berklee College Of Music in Boston on a whim with her friend (now husband) and wrote a passionate letter to the dean telling him why he should make a place for her. The college was full but he agreed.
While attending Berklee, her professors suggested she consider writing country music. She moved to Nashville and worked three to four jobs on top of writing songs. She entered a writing contest for "American Idol" and finalist David Cook chose to perform her song. After less than a year in Music City, she signed her first publishing deal. Nearly a decade in, she wrote a song Carly Pearce often refers to as "the little song that could" and the rest is country music history.
"Every Little Thing" has been one of the biggest songs of the year. How did that song come to be?
"I love hearing that people love the song because it didn't come about in some powerful way, like "here's the hit we've been waiting ten years for!" It was just another day. I'd been working with Carly, I'd known her for years and years and we'd written together off and on for years. No song that we'd ever written had been any of our favorites so we just never found that groove or that sound that you sometimes can stumble on to and then I got called in by her producer busbee, who is amazing. So he graciously invited me in. He was like, 'hey i've decided to work with this new artist. Her name is Carly Pearce.' I was like, 'she's not a new artist. She's been around!""
The three of them wrote their first song together called "You Know Where To Find Me" and it's featured on Pearce's debut album. (You can read more about the song here.) After about six months of writing together, Shackelton says Pearce came to them wanting to write a ballad.

"Ballads aren't historically the breakout songs for artists so it was sort of like, 'okay, let's write a song to go on the back of her album.' But we wrote that song, it fell out very quickly. It felt great. It just started getting stuck in my head, like I just couldn't get it out of my head after that. You know, there's a lot of songs that i've written that no one has ever heard and no one probably will that are favorites of mine so I just thought it was kind of going to be one of those that i'd find myself singing at 3 in the morning when I couldn't sleep."
Carly has said in interviews that when she would play "Every Little Thing" for people, they would say it was her big break. Did you feel that way after you heard it for the first time?
"It kept getting stuck in my head so I knew that it had some quality. I have a lot of songs that I love or a lot of my friend's songs that I love that don't necessarily stick around like this song has so it definitely had that quality of, 'I don't know what this is but it keeps getting stuck in my head.' Actually, with Carly, in the beginning, people who heard that song were like, 'Oh no. That's not going to be your big break. This is not the song for you.'"
Shackelton says an employee at "The Highway" told Pearce he'd make her a "Highway Find" but only with "Every Little Thing." (The XM radio program plays unsigned artists.) She says it was their belief in the song that really helped it take off.
"It was crazy to watch this grassroots movement of people just starting to get on social media just asking for the song. 'Who is the song? Who is the artist? I can't stop singing this song.' It was just the most beautiful thing to see. It was really unbelievable. I was pretty skeptic coming up on ten years in that this thing was going to happen for me. I couldn't have asked for a better song to have my first hit with because it was a dream scenario that came at the end of a very, very long struggle. Carly and I both have said, we were at the point where we could have called it a day. We were both kind of ready to say, 'good try. Go find a job with benefits. Go find a job with health insurance.' This song came out of nowhere."
Record labels who had previously shot Pearce down started offering her deals. She was able to say she wanted the song released as her first single. It was then chosen as the "On The Verge" pick and shot up the charts.
"busbee, Carly and I were all texting back and forth through all the months that the song was  going, just kind of in disbelief. 'Oh my gosh, it just broke top 40. Oh my gosh, it just broke top 20.' When it broke top 10, that's when it really started getting real for me. If it kept on going like it was going, it was slated to go number one mid-November so I just kind of started holding my breath. I purposely wasn't watching the chart. I have a lot of songwriter friends who watch the charts when they have songs on there and it's mind-boggling and heartbreaking and it can kind of drive you nutty watching your song go up and down, up and down."
It kept inching closer to number 1.

"The week before it was at number 2 and that was the week that was probably the hardest. You would think, in my mind, number 2 would have been just as amazing. A top 40 was amazing to me because I had never had that before. Carly had never had that before but the difference between a number 2 and a number 1 in Nashville's eyes, as a professional songwriter, the difference is pretty immense just for opportunities and doors opening. I kind of felt like i was holding my breath that last week a lot and Carly had texted me three days before it went number 1 and had said, 'I'm not trying to get your hopes up but numbers don't lie and it really looks like this is gonna be our week.'"
And there week it was. Carly was playing a big show in Nashville when it hit the top spot. Shackelton's whole family was in Nashville for a pre-Thanksgiving visit by coincidence. They all got to celebrate the big moment together. 
"It was just a dream moment. It was a beautiful, beautiful week. I won't forget it."
Now for some fun, random questions. What's on your new Nashville bucket list?
"I really want to have a song recorded by Celine Dion. That is my new goal. I want to go see her in Vegas, go meet her and I want to try to write with her and get a song on one of her records."
What is the weirdest celebrity encounter that you've had in Nashville?
"Nicole Kidman in the bakery of Whole Foods. She got the last cake that I was trying to get."
Something about an artist that you've written a song for that would be surprising for their fans.
"Brett Young is an amazing baseball player. He had a whole career doing that before he started in music. Sam Hunt was a great quarterback for his college football team. It's funny how many people had other dreams that they were pursuing and an injury stopped them."
What is your favorite Minnesota activity?
"Snowboarding at Giants Ridge. I love eating at Little Angie's Cantina in Duluth and walking on the boardwalk. I love picking wild raspberries in the summer. When my husband and I got married, we got married outside of Biwabik in a field and my dad picked fresh raspberries to put on our wedding cake so there's nothing like Minnesota wild raspberries in my opinion."
If you could only binge watch one show for the rest of your life, what would it be?
"Felicity, if I'm saying all time favorite shows. I'm a big fan of Alias. Right now, it would be This Is Us."
What's a song that you didn't write but you wish that you did?
"Oh, so many! Off the top of my head, Sleep Without You. My best songwriter friend in Nashville, that was her first number one. Cry from Faith Hill or Cowboy Take Me Away."
What's weirder - hearing your song on television or the radio?
"The radio but in a good way! I've only heard "Every Little Thing" twice in the car and both times I cried. I cried. I laughed. I sang along. I start speeding. I pulled over. All the feels."
Where were you when you heard it?
"I was driving in the car. I think I was driving to the office to write another song. I was driving in the car and I think I called my parents and put them on speaker phone."