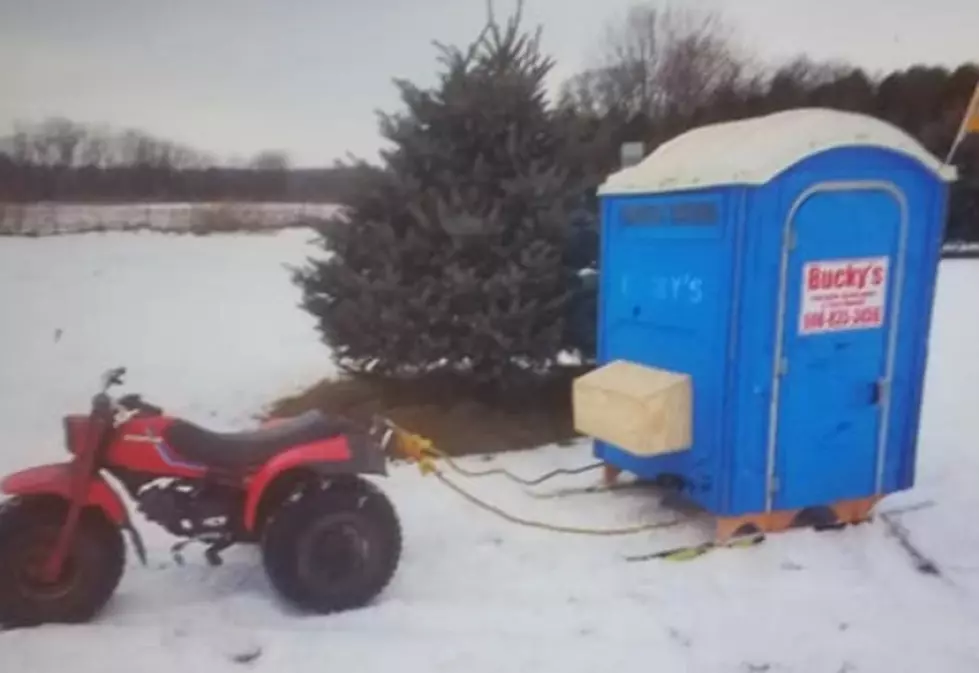 Behold The Crappie Shack: A Wisconsin Ice Fishing Shack Made From A Port-O-Potty!
Jeremy Barnett Facebook
Another winter means another opportunity for anglers to get out on frozen lakes for endless hours of ice fishing. Of course, having the right equipment can make things a lot more comfortable.
For example, having a nice ice fishing shelter can make a big difference, especially when things turn extremely cold. Of course, they can cost a lot of money depending on what style you buy so why not put that money towards an original creation?
That's what Jeremy Barnett did a couple of years ago in Wisconsin and he created perhaps the most original ice fishing shack that I've ever seen. In a word, it's craptastic!
Most people see a port-o-potty and think it exists for one purpose. Okay, two purposes to be specific, but both #1 and #2 are in the same ballpark. Jeremy sees a port-o-potty a little differently. To him, it's the perfect beginning for his Crappie Shack.
All it took was a handful of sweet modifications and it was ready to hit the ice. Take a look!
One nice thing about the Crappie Shack is that it's still portable!
Just add skis and you're good to go! Now let's take a look inside.
Propane heat is a must as a port-o-potty provides minimal protection from the elements on its own.
Of course, you need holes to drop a couple of lines.
Bravo for providing some storage space. The beer has to go somewhere.
The Crappie Shack seats two comfortably. They need another beer.
Every great ice shack needs a great tagline.
The Crappie Shack was created in 2020, but it's still going strong. Jeremy posted the next picture in 2022.
We can't wait to see what modifications Jeremy comes up with next! We anxiously await the next generation of The Crappie Shack!
If you own a fun, unique fishing shack, or have seen one out on a lake, please share it with me! You can always submit a photo through the B105 Mobile App.
The 100 Best Places to Live in the Midwest
States with the most registered hunters
Stacker
analyzed data from the U.S. Fish and Wildlife Service to determine which states have the most registered hunters. Read on to see how your state ranks on Stacker's list.