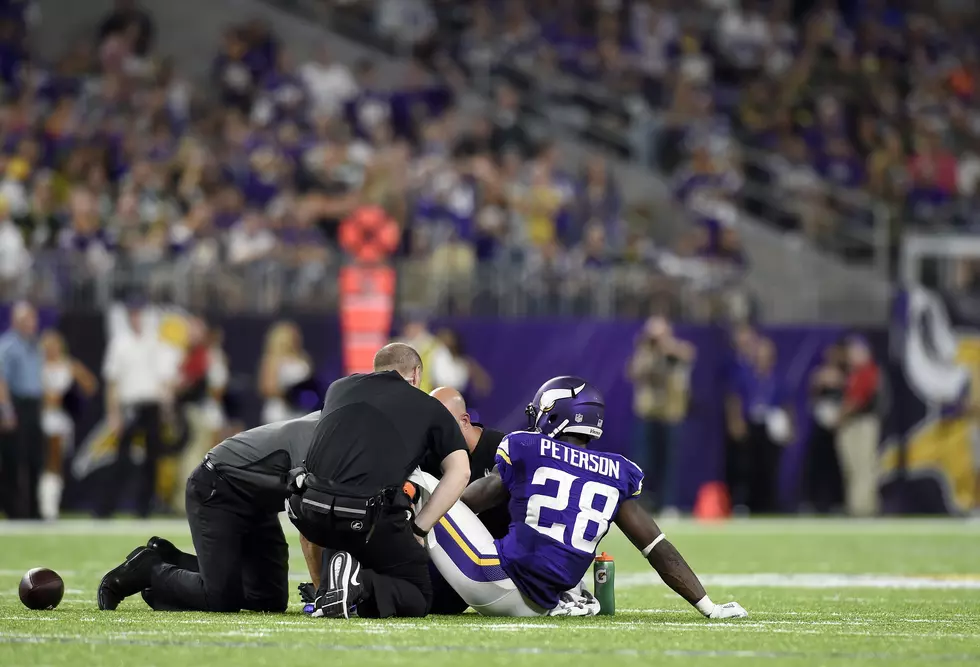 Adrian Peterson to Undergo Knee Surgery, Will Miss Several Months
Getty Images
There has been much speculation since Adrian Peterson went down with a knee injury Sunday night against the Green Bay Packers on just how long he would be out.  Today we found out that his best long-term option is the worst scenario for the current season.
NFL.com is reporting that Peterson will undergo surgery to fully repair the torn meniscus he suffered in the Packers game.  Adrian is expected to be out several months, but there's a chance he could potentially return for a December playoff run, according to NFL Network Insider Ian Rapoport.
Adrian has always proven to be a fast healer, so if there's anyone who could come back on or ahead of schedule, it would be him.  In the meantime, the Vikings will roll with Jerick McKinnon and Matt Asiata.  Might we also see CJ Hamm called up from the practice squad?
The Vikings have signed veteran RB Ronnie Hillman to add depth to the position.  There were also rumblings weeks ago that Marshawn Lynch wasn't happy being retired.  If that is true, and the Vikings could secure his rights from Seattle, that would be another bold move for a team that just aquired Sam Bradford.
If the Vikings can make it into the playoffs this year, it will show the strength of a veteran coaching staff, headed by head coach Mike Zimmer.