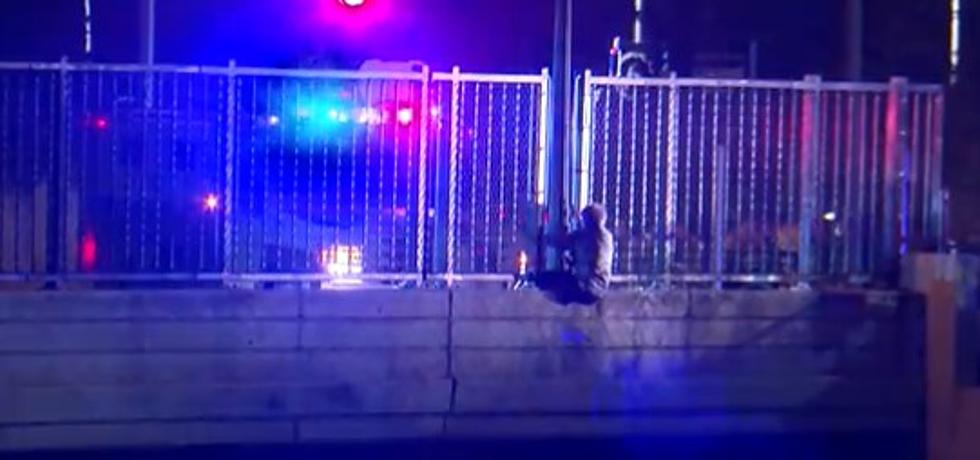 70 Year Old Minneapolis Woman Faces Charges After Hanging Off I-94 Bridge Drinking Tequila
@mplstvguy via Twitter
A Minneapolis woman is facing multiple charges after a bizarre and dangerous encounter with law enforcement. Jean Hansen, 70, admitted to taking prescription pills and drinking tequila on Saturday.
A Minnesota State Trooper noticed her driving the wrong way in her vehicle on Concordia Avenue in St. Paul. She then entered a closed construction site. The state trooper followed the vehicle. At one point Hansen exited her vehicle and walked towards the trooper's squad car.
WCCO explains that this was only the beginning. Hanson told the officer that she needed to find her way out of here. The trooper was aware that there was an active warrant for Hansen's arrest so asked her to sit in the squad car. That's when she resisted arrest and tried to get back in her own vehicle. The trooper and woman struggle for a moment when she grabbed something from her car that appeared to be a gun and pointed it at the trooper who retreated to the squad car. Hansen then sped off.
But wait, there's more. Her car was found not far away, and she was also found hanging off the Interstate 94 overpass on the fence of the Pascal Street Bridge. She had the silver-shaped gun object and a bottle of tequila which she was drinking.
They had to close down I-94 during the incident for safety reasons. They eventually got her off the bridge safely. She admitted that she was drinking tequila and had taken at least six diazepam pills. Diazepam is a controlled medication that is used to treat anxiety, muscle spasms, and seizures. It can be fatal if taken with alcohol. It's more commonly known as Valium.
Jean Hansen is facing changes of threats of violence, fleeing a peace officer, and 2 DWIs. She was arrested and hospitalized for an evaluation. She was on a provisional discharge for an arrest earlier this year after she was committed as a mentally ill person.
Fortunately for Hansen, authorities were able to safely bring her in. She had explained that at one point she thought the officers were a threat and that's why she pointed the fake gun at the trooper.
LOOK: What major laws were passed the year you were born?
Data for this list was acquired from trusted online sources and news outlets. Read on to discover what major law was passed the year you were born and learn its name, the vote count (where relevant), and its impact and significance.