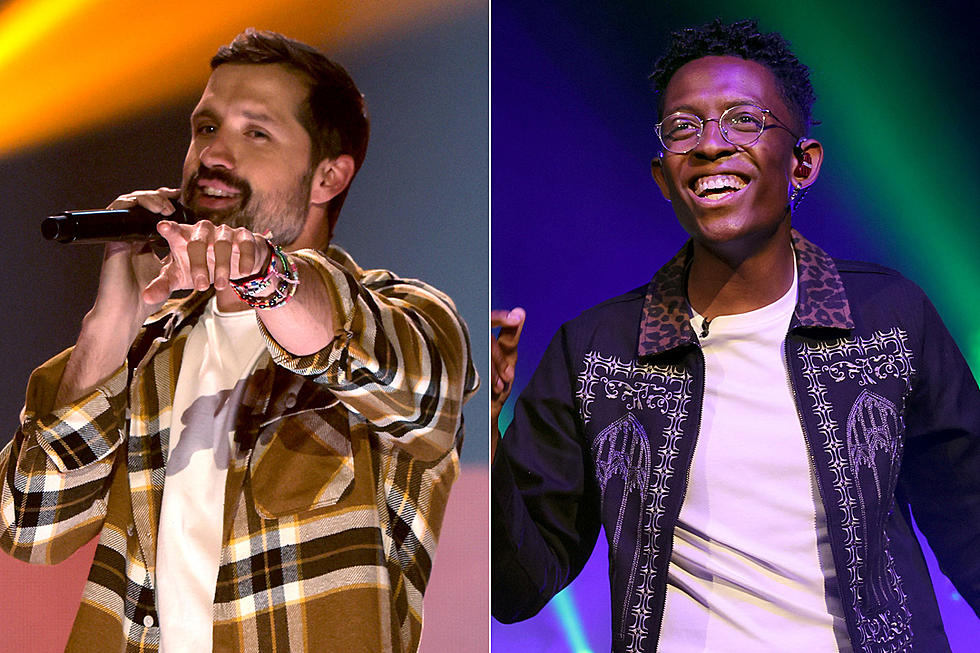 Subtle Shifts at the 2022 CMT Awards Signal the Future of Awards Shows
Mike Coppola / Jason Kempin, Getty Images
The lasting impact of the 2022 CMT Music Awards may be what was missing. Two country awards show staples were dispatched for the betterment of the broadcast and the future of such broadcasts.
First, it's important to recognize the increased diversity at the CMTs before getting into the weeds about subtleties. Intentional efforts to be inclusive were obvious and important — much more important than what's to come in this essay — but it remains to be seen if the changes are long-lasting. That two Black men (Anthony Mackie and Kane Brown) effortlessly led a country music awards show is something rare that even they joked about. Jimmie Allen's moment with Monica and Little Big Town was a stirring cross-genre revelation. The Black Pumas joined Mickey Guyton to preview their upcoming CMT Crossroads episode, and they sold the show with ease. The 2022 CMTs weren't perfect, but the content was rich and full of surprises. That's what's going to bring viewers back to their televisions (5.1 million people watched, per Variety) in the years to come.
It just might not be the same viewers as before.
The show targeted a younger demographic, which is to say it didn't rely on legends to pull an older audience that seems to become more and more disenfranchised with modern country music daily. The Alan Jacksons, Reba McEntires, Dolly Partons of the country world absolutely deserve television airtime, but country awards shows can't rely on those legends for survival, because they're in short supply. Cultivating new fan-favorites who viewers under 40 years old will tune in to see is essential, and we saw that on Monday with artists like Kelsea Ballerini, Thomas Rhett and Carly Pearce — core artists to a generation that will follow Jason Aldean, Carrie Underwood, etc. ...
Heck, Breland (he's 26) was featured prominently for a second-straight awards show! The guy hasn't even released a radio single, but he has been a standout performer on Amazon Prime and CBS (he also sold out the Ryman). A commitment to new blood has been long overdue.
The second change requires a history lesson, and an open mind about country music's willingness to change institutionally.
Eleven years ago, Luke Bryan took the CMT Music Awards stage to sing "Country Girl (Shake It for Me)," an aggressive new summer single with several ear-tugging lyrics ("Tangle me up like Grandma's yarn" is a favorite). At the :45 mark, seven dancers joined the singer on the catwalk. All women — in fact, all were women of similar proportions and dress: Tight pants, tight abs, tight halter tops and long hair must have been on the call sheet.
"Country Girl" is not an inherently sexy song, but with performances like that one, it became one. About 90 seconds before the event wrapped, the women slid into the splits in unison, whipped their hair back and seductively moved their hands over their respective chests.
"You know what to do," Bryan hollers in a video of the moment — see below — before launching into the chorus a final time. It was a defining moment in his young career, and from that point on, he'd be a superstar — perhaps even a sex symbol.
Bryan's energy and progressive new mix of country and rock was pre-Bro Country, which is to say it was before a time when the blatant objectification of women was recognized as inappropriate. In time, we may look at this moment like we look at John Travolta's Grease — as a charming time capsule.
Jump back to 2022 — on Monday night, Walker Hayes took the CMT Music Awards stage to sing "AA," a less aggressive summer single with one great laugh-out-loud lyric.
"I'm just trying to keep my daughters off the pole and my sons out of jail," he croons at the chorus.
At the 1:30 mark during his live performance, 10 dancers started to line his catwalk, and here is where the script shifts. These women — and men! — are of different backgrounds, with different body types. They worked in unison to amplify the singer's image, and were arguably as effective as Bryan's were a decade ago.
"AA" at the 2022 CMTs won't be remembered as iconic like "Country Girl" was in 2012, of course, but that's more to do with the song being the second-most memorable song Hayes has released in the last 12 months. It was still an important moment if you paid attention. Watch again:
CMT as a network has been particularly vigilant about supporting women in country music and diversity in country music, and there's reason to believe Hayes stands behind those goals, too. Think about it: A 42-year-old white man from Alabama just went on national television with a group of dancers that resembled the cast of Rent and nobody batted an eye about it, in country music? That's what normalizing inclusivity looks like.
We'll take more of it, please.
2022 CMT Music Awards Performance Pictures
See the best pictures from the top performances at the 2022 CMT Music Awards in Nashville on April 11. Over two dozen artists took the stage to sing during the three-hour CBS broadcast.