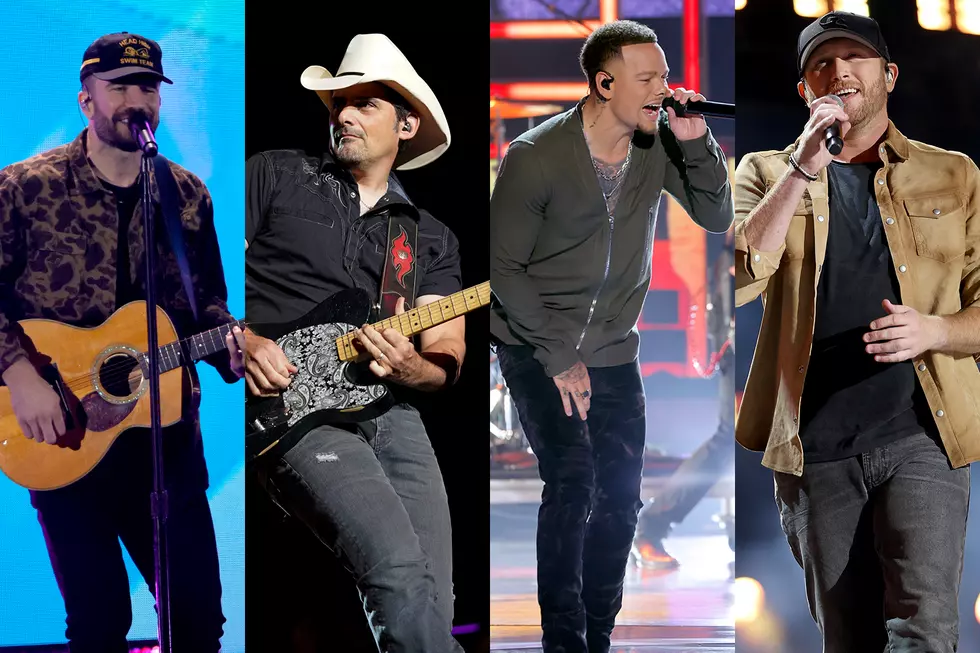 Is The Trend Of Country Singers Sampling Other Country Songs Here To Stay?
Getty Images
I have an incredibly wide-spanning taste in music. That said, one of my home-base genres is, and always has been country music. I grew up listening to classics from legendary musicians like Waylon & Willie, Dolly, and Don Williams; right alongside more contemporary stars of my youthful era like George Strait, Reba McEntire, and Alan Jackson.
One thing that has been a constant as long as I've been an active consumer of music is this - Country musicians and fans alike treat songs and artists from eras gone by with a ton of respect. I would argue this happens at a level like no other genre.
Don't get me wrong, it does happen elsewhere. Rock and hip-hop stand out as other places where this sense of respect is strong. But, for some reason, it just feels like a different level in the country music world.
Just think about the number of times the name of a legendary country star has been evoked by a more modern act in a song or on a stage somewhere. For example, Johnny Cash has been name-checked in a ton of country songs. Heck, Jason Aldean even had a song called "Johnny Cash". Taylor Swift modernized the target audience with her song "Tim McGraw". In both of these instances, there's a story being told that includes nostalgia for those stars and their music. There are tons of name-drops beyond this though. It's kind of crazy, actually, how many there are.
Something that hasn't really been a trend until recently in the genre, though, is the act of sampling another country song. Now, technically "sampling" would mean using/remixing the original recording, but I'm going to use the term a little more loosely in this case.
The act of sampling, popularized by the hip-hop and pop music world, has made a few appearances over the years in the country genre. One that stands out was Wynonna Judd's 1994 song "Girls With Guitars". Granted, she didn't sample other country songs, but it stood out to me as the first time I can remember hearing something lifted from another song - namely the guitar riffs from classic rock hits "Smoke On The Water" and "Sunshine of Your Love".
Brad Paisley took things to a different place with his 2011 hit "Old Alabama". The entire song is one giant homage to the band Alabama, referencing either musically or lyrically hits from the group like "Mountain Music, "Dixieland Delight, Why Lady Why", and "Feels So Right". Heck, it even features members of the band! In many ways, this felt like a cool tribute to a band that had a big influence on the genre for decades. But it actively involved the band that was the subject.
Fast-forward to the spring of 2020, when Sam Hunt dropped his 2x Platinum hit "Hard To Forget". The song opens with a sampling of the 1950's Webb Pierce song "There Stands The Glass", and circles back to it throughout the song.
I can remember having a lot of conversations with friends of mine about this song. Some simply loved the catchiness or artistic/creative blending of old and new. Others felt it was disrespectful to the original work or just didn't like the poppy vibe clashing with such a deeply-rooted country classic.
I get the sense there were some mixed feelings about it among some genre fans that echoed what I heard in conversations among my friends. Despite whatever mixed emotions there were, it was a huge song for Sam Hunt, and this sampling really stood out as a moment in the genre. Forbes even wrote a piece after it was released, explaining how it was a pretty rare thing in the genre and how the producer got the inspiration to give it a try with "Hard To Forget".
Since "Hard To Forget" came out, the floodgates have seemingly opened in the world of sampling in country music.
Later in 2020, Brothers Osborne dropped their album Skeletons, which featured a song called "Midnight Rider's Prayer". The song samples lyrics and some musical elements from the Willie Nelson song "On The Road Again".
In early 2022, Kane Brown dropped his hit "Like I Love Country Music", which name-drops Johnny Cash, June Carter Cash, Alan Jackson, and even gets a cameo from Ronnie Dunn singing a couple of words from the Brooks & Dunn hit "Brand New Man". This isn't necessarily a sampling as much as something like Brad Paisley did with "Old Alabama", but it does fit into the growing trend.
This fall, up-and-coming star Breland released his first studio album, titled "Cross Country". The album, which features guest artists like Keith Urban, Thomas Rhett, and Lady A also features two songs that sample other country songs.
More in the way Sam Hunt sampled the Webb Pierce recording from the 50's, Breland sampled the 1980's hit "Nobody" by the artist Sylvia on his track "County Line". The opening of "County Line" is a sped-up version of the beginning of "Nobody", with callbacks to the tune throughout the song, much like Hunt's "Hard To Forget".
In a more subtle sampling, Breland's song "Natural", samples the guitar riff from Shania Twain's "Man! I Feel Like A Woman", with some other subtle musical similarities borrowed throughout the song.
Another example from this year, which has been getting a lot of radio play, is Cole Swindell's "She Had Me At Heads Carolina". The track not only includes a brief sampling of the original Jo Dee Messina song "Heads Carolina, Tails California" from 1996, but also heavily leans into borrowing lyrical and musical references to the original piece.
These mark just some of a growing number of mainstream instances of calling back on songs from years gone by. Some of them seem like measures of tribute, others give me the sense they're playing the nostalgia card that has been popular in recent years around the entertainment industry (especially in movies & TV), while others yet just seem like they might be clever nods to a previous era - or maybe some combination of the above.
The usage of sampling has been incredibly successful in the pop and hip-hop world over the decades, and it looks like it has found a foothold and is growing in popularity in the country music world. From my vantage point, it looks like the trend is here to stay.
How do you feel about this trend in country music?
11 Times Country Stars Called Each Other Out