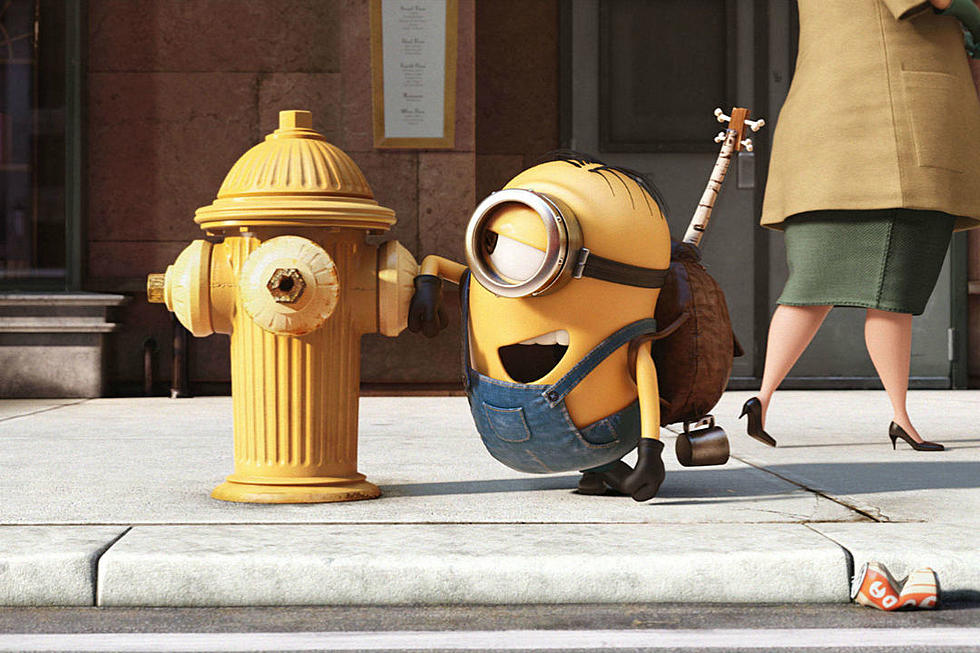 Weekend Box Office Report: 'Minions' Takes Over the World
Universal
Universal was already bathing in its Furious 7 and Jurassic World money Scrooge McDuck-style before Minions opened this week. Now the studio is looking at its third truly massive hit of the year, a run that feels nearly unprecedented. Universal already released two of the biggest movies of all time within the past four months, and now it's looking like it may have three.
Film
Weekend
Per Screen
1
Minions
$115,200,000
$26,784
$115,200,000
2
Jurassic World
$18,100,000 (-38.1)
$5,260
$590,638,000
3
Inside Out
$17,108,000 (-42.5)
$4,696
$283,638,000
4
Terminator Genisys
$13,700,000 (-49.3)
$3,621
$68,718,000
5
The Gallows
$10,015,000

$3,682
$10,015,000
6
Magic Mike XXL
$9,640,000 (-25.0)
$2,855
$48,359,000
7
Ted 2
$5,600,000 (-49.9)
$2,579
$71,619,000
8
Self/less
$5,379,000
$2,286
$5,379,000
9
Baahubali: The Beginning
$3,575,000
$15,148
$3,575,000
10
Max
$3,420,000 (-48.3)
$1,638
$33,705,000
Minions opened to an enormous $115 million, topping both Despicable Me movies and animated champions like Toy Story 3 (which opened to $110 million in 2010). Worldwide, it's already nearing the half-billion mark. Chalk those numbers up to a few key factors: an omnipresent marketing campaign, main characters who don't need to be understood to be enjoyed, and, well, the fact that kids really, really, really love the Minions. Since family movies tend to have stronger legs than most other genres, this one could hang around for quite some time. It should hit $400 million at the very least, but it could go even higher.
Universal also held onto second place, with Jurassic World adding $18 million to its gross, putting it at $590 million. The film is finally slowing down, but it should have enough juice to topple The Avengers in a few weeks. Topping Titanic will be a bit more of a battle, but it will get there. Avatar remains unchallenged for now. In any case, Colin Trevorrow's sequel should pass $600 million next weekend, making it only the fourth film to do so at the domestic box office.
These huge successes must make Universal feel kind of okay with Ted 2 continuing to disappoint. The R-rated comedy sequel plummeted this week, falling to seventh place and only making $5 million for a $71 million total. $100 million certainly won't happen, which means that it won't even gross half of what the first movie made. Ouch.
Speaking of ouch, Terminator Genisys fell 49 percent from last weekend, grossing $13 million for a $68 million total. At this rate, the film will have to seriously struggle to hit $100 million and even that number may not guarantee the sequel everyone involved wanted to make.
Speaking of ouch, part two: both The Gallows and Self/less opened with a whimper, which felt inevitable. Who the hell thought releasing a found footage horror movie and a high-concept, low-key sci-fi thriller in the middle of summer was a good idea? These may have cleaned up in September.
But there is more good news to be found in this week's charts. Inside Out continued to perform admirably, adding $17 million to its gross for a total of $283 million. It will reach $300 by next weekend. Magic Mike XXL, despite its mediocre opening weekend, dropped a minuscule 25 percent as word of mouth spread. It won't reach the levels of the first one, but it could be a big hit yet. And finally, in one of the strangest moments of the summer, the Indian film Baahubali: The Beginning cracked into the top 10 despite a tiny theater count, making a huge $15,000 per theater.