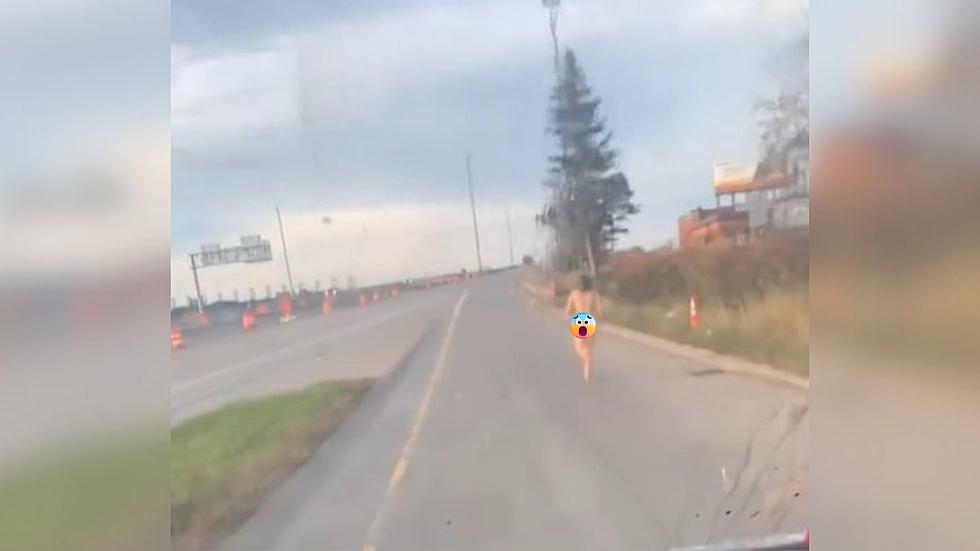 WATCH: Video Captures Naked Man Running Onto Highway In Duluth
Brice Foster Facebook
Well, here's something you don't see every day. While on a Sunday drive in the Northland, you can see various things. There are fall colors in the trees, there is Lake Superior, birds, deer, and other wildlife.
Of course, you expect to see other people out and about, but what was spotted the morning of Sunday, October 29, is probably the last thing you'd expect to encounter, especially when driving onto a major interstate.
While scrolling social media Sunday morning, I happened to see a Facebook post by Duluthian Brice Foster. Apparently, Brice was out for a drive and as he drove onto I-35 he saw a person running onto the highway. Oh, did I mention that the person was completely naked?
Either this person had an epic night that carried over into the morning, or their Sunday Funday is off to a fantastic start! Either way, I think we'd all love to hear the backstory on this.
Hopefully, this person is okay and they get safely to wherever it is they're going. I also hope they get some pants.
If the police happened to spot the streaker, their Sunday Funday could end with an indecent exposure conviction. The penalties differ depending on what level the state prosecutes an indecent exposure charge.
In general, one may face public indecency fines, jail time, or both, at the following levels:
Misdemeanor: Up to 90 days in jail, up to $1,000 fine, or both;
Gross Misdemeanor: Up to 365 days in jail, up to $3,000 fine, or both; or
Felony: Sex offender registration, up to 5 years in prison, up to $10,000 fine, or both.
The obvious takeaway is that the authorities don't think running around naked is very funny. This video, however, is.
To be honest, I'm sharing this video on my actual birthday, and while I had thought about running outside in my birthday suit, I now find myself oddly inspired.
The Definitive List of The Oddest, Strangest and Downright Filthy Town Names In Every State
We combed through list after list of the oddest, strangest and somewhat naughty-sounding town names in every state. From Smut Eye to Ding Dong, you can learn unbelievable facts about each of these towns below.
Gallery Credit: Rob Carroll
LOOK: 50 cozy towns to visit this winter
Stacker
created a list of 50 cozy American towns to visit each winter. Towns were selected based on visitor opinions, ratings from nationwide publications, and tourist attractions.
Gallery Credit: Laura Ratliff