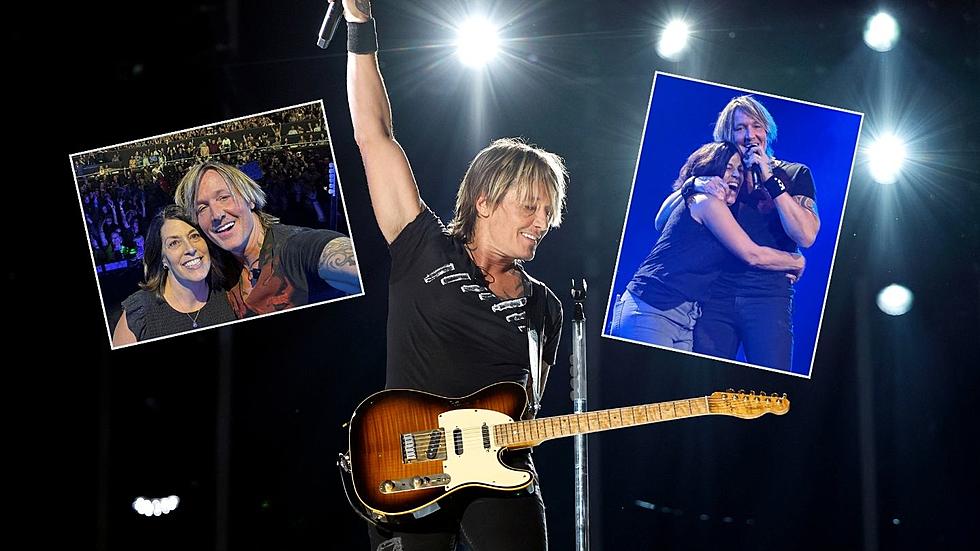 WATCH: Keith Urban + Duluth Woman Share Special Moment Onstage In Las Vegas
Getty Images / Missy Luukkonen
On November 1, 2023, Keith Urban The Las Vegas Residency began another run of shows inside Bakkt Theater at Planet Hollywood. These are his final shows of this residency, which runs through November 18.
This served as a great reason for Duluthian Missy Luukkonen and her husband Mike to take a break from The little Green Bean, the sewing, embroidery, and home decor business they run from their Duluth home, and head to Las Vegas.
You could safely say that Missy is a Keith Urban Super Fan. She started seeing the superstar in 2005 and has never really stopped. The November 1 show in Las Vegas would be the 24th time she's seen him in concert, and it turned into a night she'll never forget.
Keith Urban is known as a consummate entertainer on stage, and he loves his fans. In fact at each of his concerts, after completing his first couple of songs, he stops to read signs that fans have made and to interact with them.
The challenge for fans who are aware of this is to create signs that will get his attention, so you're likely to see a wide variety of creations, even signs with lights.
Since they would be in the pit near the stage for the show, Mike Luukkonen had the idea to make signs that he hoped would get Keith's attention and provide a special night for Missy. First, they made a sign for Missy which read, "My Husband Bet Me That I Couldn't Get Hug From You..."
To make things complete, Mike carried his homemade sign which read, "I am the Husband".
After a long wait in line to get into the concert, they were positioned in the pit as Keith Urban took the stage to start the show. You can tell from the video below that they had a great spot!
As he's known to do, Keith stopped down early in the concert to look at all the signs and talk with fans. It didn't take long for Mike's plan to pay off in a way that was even better than they ever expected. Keith saw the Duluth couple's signs and asked how much their bet was for. They shouted out that it was a $100 bet and it was then that Missy's night would be a dream come true.
Keith brought her onstage for a special moment, he then made sure to collect the $100 from Mike and gave it to Missy. The moment was caught on video by another fan at the show.
Missy officially won the bet in an unimaginable way as the photos below show. First, there is a friendly exchange between Keith Urban and Missy.
They next find Mike in the crowd to confirm he's going to pay up on the $100 bet, which of course he's happy to do.
Then, the extended hug continued before Keith collected the $100 that now rightfully belonged to Missy, who likely would still be in this pose today if Keith didn't have a show to do.
Of course, an onstage selfie taken by Keith Urban himself would complete a very special night for Missy and Mike (and Keith) in Las Vegas.
Missy told me the next day that she was so excited that they forgot to eat dinner and she barely slept a wink after the show. Hopefully, she was able to get a few hours of sleep on the plane coming back to Minnesota. She'll need A LOT of rest to come up with an idea that will top this amazing night the next time she sees Keith Urban!
See Inside Keith Urban and Nicole Kidman's Spectacular Manhattan Condo
LOOK: 50 cozy towns to visit this winter
Stacker
created a list of 50 cozy American towns to visit each winter. Towns were selected based on visitor opinions, ratings from nationwide publications, and tourist attractions.
Gallery Credit: Laura Ratliff