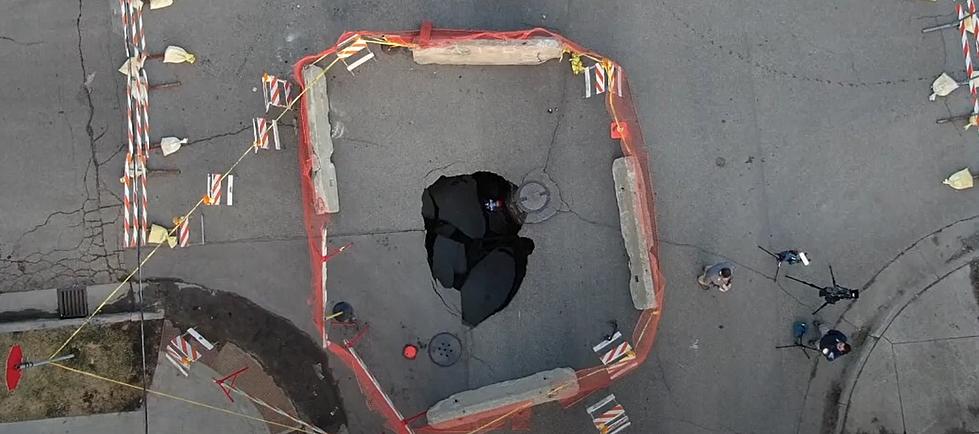 WATCH: Drone Video Of Massive Sinkhole That Developed On Minnesota Street
FOX 9 /YouTube
Across the Northland, there is plenty of talk about the condition of our streets as seemingly neverending pothole issues exist everywhere. However, as bad as things can get, it would be hard to have a worse issue on a street than what happened recently in Minneapolis.
Residents near 27th Avenue and Girard Avenue S, in the middle of Uptown, woke up over the weekend to discover a large sinkhole had developed on their street and the Minneapolis Public Works Department had erected a barricade around it.
According to a report by KARE 11 in Minneapolis, the size of the sinkhole is approximately 5 by 10 feet wide.
While the exact cause for the sinkhole wasn't released, there is speculation that extremes in Minnesota weather, the same culprit behind potholes, is at least partially to blame.
According to the Pennsylvania Department of Environmental Protection, sinkholes are all about water. They note that sinkholes can, in fact, result from seasonal changes in the groundwater table, freeze and thaw of the ground, and extremes in precipitation (drought vs heavy rain).
There are also activities that can lead to sinkholes, including disturbance of the soil and heavy loads on the surface.
Whatever the cause, it is odd to see such a large sinkhole in the middle of an intersection in a major U.S. city. This drone video footage from FOX 9 gives a better idea of just how large it is. There were no injuries reported related to the sinkhole, someone likely threw the doll in there after the fact.
Just how long it will take to repair the damage caused by the sinkhole is unknown at this time and the barricades will remain in place until it is once again safe to travel on that section of road.
LOOK: The most extreme temperatures in the history of every state
Stacker
consulted 2021 data from the
NOAA's State Climate Extremes Committee (SCEC)
to illustrate the hottest and coldest temperatures ever recorded in each state. Each slide also reveals the all-time highest 24-hour precipitation record and all-time highest 24-hour snowfall.
Keep reading to find out individual state records in alphabetical order.
LOOK: Route 66's quirkiest and most wonderful attractions state by state
Stacker
compiled a list of 50 attractions--state by state--to see along the drive, drawing on information from historic sites, news stories,
Roadside America
, and the National Park Service. Keep reading to discover where travelers can get their kicks on Route 66.