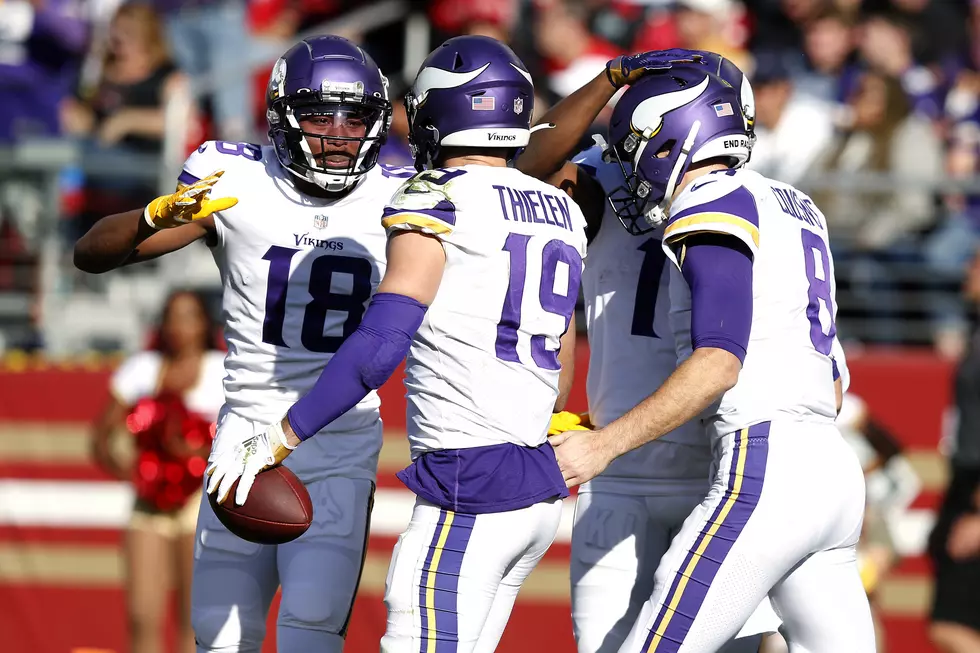 Minnesota Vikings Star Spotted At The Timberwolves Game
Getty Images
The Minnesota Timberwolves took on the Miami Heat last night at the Target Center, and one star from the Vikings was in attendance.
I absolutely love seeing fellow Minnesotans and other sports stars supporting each other. The Wolves took on their old teammate Jimmy Butler and the Heat on November 23rd, 2022.
They even wore their new City Edition uniforms:
The coolest part of the jersey is that each one is different. Meaning, not every player will have the same one, yes some are similar, but not all the same. I think the coolest part is all five colors in the panels on the jersey are tied to past Timberwolves uniforms. The green and blue represent the old logo with a wolf in front of a basketball. The red and yellow represent the snarling wolf logo back in the Kevin Garnett days. Lastly, the light blue represents their 2019 City Edition logo.
The Wolves made some great plays and ended up winning the game, 105 - 101.
Fellow Minnesotans and celebrities have made appearances at games over the years. For example, Minnesotan and funny man Nick Swardson is no stranger to being at the Target Center:
He is such a big fan, he's even wondering why the Timberwolves aren't following him:
Actor and avid Minnesota sports fan Josh Duhamel has been spotted at several games:
But, now which star of the Vikings was spotted at the game last night?
Minnesota native Adam Thielen and his wife were the good luck charms at the game. Hopefully, the beautiful couple can go to more games so the team can keep winning. The wolves are also now undefeated in their new jerseys:
Ten Odd NBA Mascots That Don't Match The Team Names
15 Professional Athletes From Minnesota