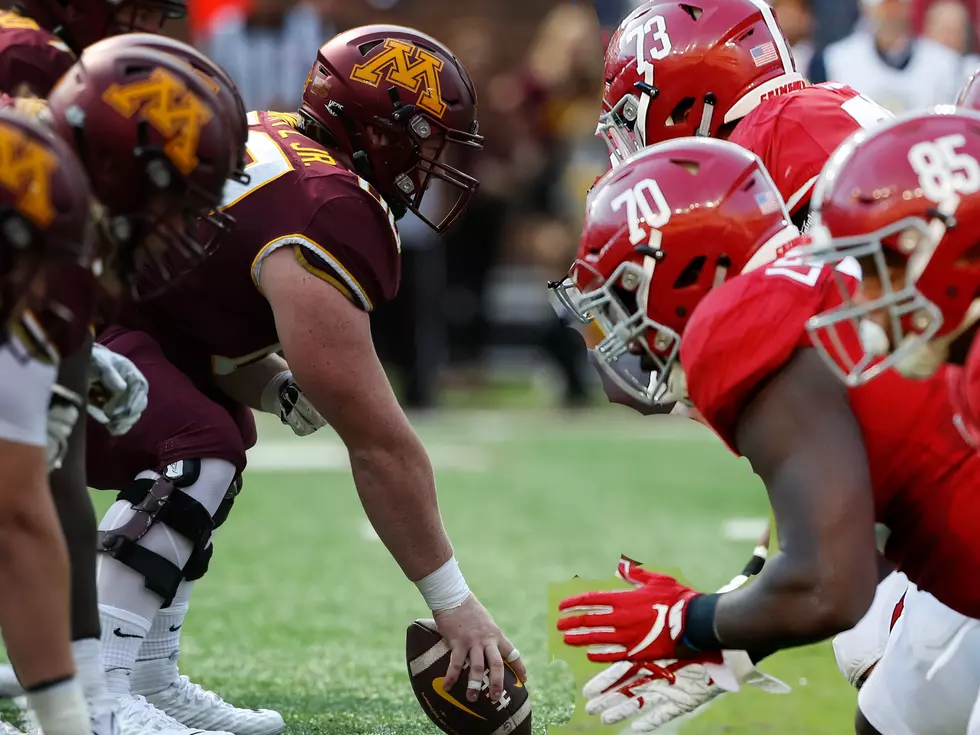 Minnesota Gophers Football Will Play Alabama, The Date Will Shock You!
Getty Images
The University of Minnesota Athletic Department made a huge announcement today about a future football matchup between the Gophers and Crimson Tide, but you'll have to wait a minute to see this game.
In a short press release, the Gophers announced that Alabama has been added to the upcoming football schedule, clearly college football likes to work these things out way in advance, because the games won't happen for another decade.
"The Gophers will host Alabama on Sept. 18, 2032, and play at Alabama on Sept. 17, 2033," according to the statement. That's right, the game won't happen for 10 YEARS,  college football works further ahead than the Olympics or even NASA, crazy.
Clearly, both teams will look completely different by 2032, both teams' head coaches Nick Saban and P. J. Fleck will likely have moved on by then and the future players on that team are probably still in elementary school, that's how far off this game is.
The good news is that the Gophers are 1-0 against the Crimson Tide, they faced off at the 2004 Music City Bowl in Nashville, and the maroon and gold beat the crimson and white 20-16.
Against current teams in the SEC, the division in which Alabama calls home, Minnesota is 9-8-1, the Gophers last played an SEC team in 2020 in the highly coveted Outback Bowl and beat Auburn 31-24.
Who knows how we will even do tickets at that point in time, so no word on ticket sales yet, more than likely you'll need to use your AR glasses to confirm your identity and use your wrist hologram display to gain access to the event.
Get a Look Behind-The-Scenes at The Duluth Haunted Ship Workshop
Each year a team of talented and dedicated individuals spends countless hours working on building new experiences and enhancing old ones for the Haunted Ship, and much of the work is done in this hidden workshop inside the Willian A. Irvin.
See a Spooky Preview of the 2022 Duluth Haunted Ship - Is It The Best Ever?
I got a chance to preview the 2022 Haunted Ship, and let me tell you, this year may be the best year ever, the sets, the effects, and the props, are all excellent and I can't wait to go through it again when it's open for the season.
17 Of The Oldest Restaurants In Minnesota